What to do in Qatar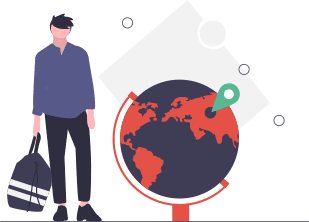 Visit the Pearl Qatar
The Pearl-Qatar is an artificial island that spans four square kilometers and is located 350 meters off the coast of Doha's West Bay Lagoon. The island, which is still under construction, is a sanctuary for those who value world-class luxury. The Pearl-Qatar exudes extravagance with its opulent townhouses, award-winning beaches, recreational facilities, and a diverse selection of high-end restaurants and public spaces. One of the most famous attractions on the island is the Marsa Malaz Kempinski, a European-style resort with Arabian touches. Those who want to see grandeur at its finest should take advantage of the opportunity to visit the island while in the capital.
Visit Katara Cultural Village
Katara Cultural Village is a jewel of Qatar's art and culture scene, located on the way to The Pearl. Here, a labyrinth of passages and waterways leads to hidden spaces for artists, filmmakers, and photographers. A mosque with turquoise and purple mosaics, an outdoor amphitheater with a view of the sea, and an opera house where the Qatar Philharmonic Orchestra performs can all be found here. It also hosts concerts and festivals, such as the Traditional Dhow Festival and the Palestinian Heritage Festival. The numerous foreign restaurants, cafés, and kiosks ensure that you will not go hungry. Try a chapati and Karak if you're looking for a simple local treat. But be warned: you can find yourself returning for seconds.
The National Museum of Qatar
The Qatar National Museum is a brand new national museum in Doha that opened less than a year ago. Time Magazine named the museum one of the best places to visit in the world in 2019, and it was inspired by the desert rose crystal found in Qatar. The museum, which opened on March 28, 2019, has already attracted over 450,000 visitors, making it one of the most visited museums in the world. The museum is 1.5 kilometers long and tells the storey of the country in three sections or themes. It begins with the 'Beginnings,' continues with 'Life in Qatar,' and concludes with the 'Modern History of Qatar,' retelling the country's growth from the desert to the present day, and is the ideal place to learn about Qatar's rich history.
Pray at Grand Mosque Qatar
The State Grand Mosque, located in Doha's Jubailat district, is Qatar's national mosque. The mosque, which opened in 2011, covers a total area of 175,164 square kilometers, making it the country's largest. The Mosque has 93 domes and 20 entrances, with a capacity of 30,000 people. Despite the fact that it is inaccessible to non-Muslims, the mosque is a beautiful sight to see from the outside and photograph.
Visit Al Koot Fort
The Al Koot Fort, located in Souq Waqif in the heart of Doha, was built in 1927 and later converted into a museum. The fort was rumored to have been constructed to defend the Souq Waqif from looters. It was first built to act as a police station and later as a prison. The Fort now serves as a museum, preserving traditional woodwork, handicrafts, paintings, and ornaments, all of which contribute to Qatar's rich cultural heritage.
Best things to do in Qatar
Qatar offers many things to do for everyone, as well as it also provides all kinds of tourists with many activities in Qatar to do and enjoy.
Take a Walk at the Corniche
Starting at the Sheraton Hotel and finishing at the National Museum of Islamic Art, the Doha Corniche is a seven-kilometer-long pedestrian public arena that spans Doha Bay. The public is a local favorite because it draws people from all walks of life and offers something for everyone, regardless of their socioeconomic background. The promenade caters to everyone's entertainment needs, from taking a walk in the morning to flying a kite or enjoying an elaborate lunch at Al Mourjan, one of Doha's best restaurants. Taking a trip in the Dhow vessels, which provide a mesmerizing view of Doha Bay and should not be missed if you're in town for a tour, is one of the most common fin things to do on the Corniche.
Don't Forget Qatar Desert Adventure
Extreme sports are well-known in the desert country. Qatar has gone to great lengths to make the phrase "desert" sound thrilling. If you're looking for a rush, there are a variety of Qatar activities to try, including taking an SUV ride through the dunes, paragliding over the beach, sandboarding, camel riding, driving a dune buggy, and many more. Camping in Qatar is another common tourist activity, which can be organized via agencies such as Desert Sports or Qatar International Adventures.
Water Activities in Qatar
Qatar is a unique country, that provides a magnificent view of the Arabian Bay. This magical location allows it to provide a wide range of water activities. Everyone can enjoy brilliant moments and have a fun time. One of the best and most fun places in Qatar is boat and yacht rentals, where you can experience the beauty of the blue water and clear sky. For lifting your adrenaline up, give diving in Qatar a shoot and discover the charming underwater world. Also, jet skiing and kayaking are the best water activities that you can experience in Qatar. But if you are looking for extreme enthusiasm then you should try paragliding in Qatar.