The Kingdom of Saudi Arabia, a country on the Arabian Peninsula, is hiding its secrets in the vast deserts and ancient cities and is waiting to be explored. Travel in places that haven't seen many visitors and discover the varied landscape. It is interesting that Saudi Arabia is the largest country without a permanent river. There are many places to visit in Saudi Arabia, where you can enjoy the breathtaking views from skyscrapers, stand on top of cliffs, and experience the feeling of standing at the edge of the world, or you can explore the beauty of the Red Sea, especially its coral reefs.
If you are interested in Tourism in Saudi Arabia then this is for you.
Best places to visit in Saudi Arabia
Jeddah
Saudi Arabia boasts many riches – but perhaps nothing is as breathtaking as its commercial capital, Jeddah. It is one of the best places to visit in Saudi Arabia and considers a centre of diversity a melting pot of different cultures highlighted by attractive and modern malls.
But it also places a strong emphasis on local customs and traditions according to Saudi principles. If you are looking for a traditional experience of Islamic culture, look no further than Saudi Arabia and its second-largest city, Jeddah.
Jeddah is one of the busiest cities in the Middle East, and a large part comes from its proximity to the holy cities of Mecca and Medina.
There are a huge number of shopping options ranging from modern malls to traditional stores that have been roaming their business for decades and decades. Jeddah is the largest city along the Red Sea and this gives it access to some truly amazing beaches. Renting a boat or a yacht in Jeddah is a wonderful activity.
If you're looking for a sunny day out, you'll find in Jeddah everything you need. You can also pamper your inner architect by touring the city and enjoying impressive buildings just as well as preserving them.
Discover Jeddah's activities and book now
Al-Shallal Theme Park
Explore famous tourist places in Saudi Arabia and visit Al-Shallal Theme Park, one of the most beautiful places to visit in Saudi Arabia, especially in Jeddah, where you can enjoy it a lot and have the opportunity to explore the Al Shallal theme park. Which is located on the Red Sea, so it is more than just a resort it is a daily destination for tourists and residents of all ages because it contains different and exciting activities and electric games that help you spend an unparalleled day in Jeddah, as there are games suitable for children of all ages and there are games specially designed for young people as they are full of suspense and a sense of adventures such as Death train, bumper cars, and ups and downs.
But if you are looking for entertaining sports on your tour, you will find a bowling alley or an ice skating rink, as well as well-known video games, and besides this, you can get a different experience of watching cinema, and of course, you can't miss the food in the various restaurants and cafes of the waterfall where You can choose what you prefer. It is considered the best entertainment city in Saudi Arabia. 
Al Shallal Theme Park In Jeddah
Book your Shalal Ticket now
Desert Safari in Jeddah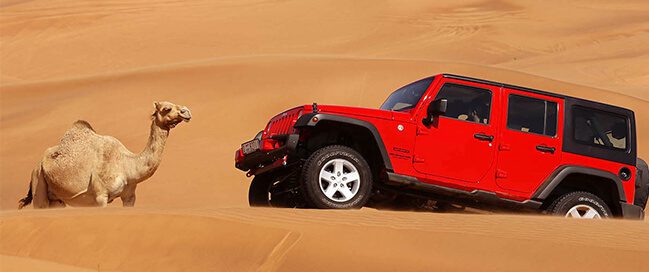 Safaris are one of the best attractions in Saudi Arabia. If you want to enjoy a desert safari around Jeddah, you can choose one of the many safaris in Jeddah. Where there are many desert safaris such as jeep trips with safaris, camel trips, and dune trips in the desert. During these trips, it will be your chance to live a different experience in the desert of the Golden Kingdom, which has been known since ancient times.
It is famous for its distinctive deserts and watching the ancient mountains, which carry within them a history that extends for many years. In the evening, you will have the food which is cooked on the fires in the middle of the desert at a barbecue party that you may not witness. Like it at all and don't miss drinking tea in the Bedouin way while watching the luminous stars in the blue sky at night in the tanning sessions with your friends. Therefore, deserts are one of the tourist places in Saudi Arabia that you must experience.
Don't Miss your Safari Tour with Ootlah
Riyadh
The capital of the Kingdom and one of the best places to visit in Saudi Arabia, because of its historical and commercial importance for many years, but recently the city of Riyadh has become not just for commercial activities only but has become one of the most important capitals of the Arab countries and the organization of celebrations and tourism activities. Where Riyadh includes the most places for hiking and entertainment, such as the Kingdom Tower, which is one of the most prominent and important tourist attractions in Saudi Arabia, and Wadi Hanifa, which allows you to relax amid a noise-free nature and brings together many valleys.
It also includes various museums such as the National Museum in Riyadh, the Archeology Museum in Riyadh, the Murabba Palace Museum, and the Masmak Palace, which occupies a great place among the population of Saudi Arabia due to its historical importance, as the city of Riyadh was opened from its square, and therefore it is one of the most prominent tourist attractions in Riyadh. And Riyadh has become home to many huge shopping centres that include the largest well-known international brands, so you can spend a whole day in them and enjoy not only buying but also the experience of wandering and trying restaurants with strange and different foods such as Al Nakheel Mall, Marina Mall, Flamingo Mall Riyadh, Granada Mall.
Enjoy your activity in Riyadh with Ootlah
National Museum
National Museum is one of the most famous and historical places in Saudi Arabia. The history of Islam is the main focus of this museum, which consists of 10 galleries, plazas, and a section that includes luxury cars and other property for the founding king of the Kingdom of Saudi Arabia.
The museum is huge and very well-known to tourists who do not know much about Saudi Arabia, and it is a good place to start discovering it.
The surrounding historical area is very ethnic and beautiful and can take half a day to wander around.
Riyadh Zoo
The largest zoo in the Kingdom and one of the top places to visit in Saudi Arabia and includes about 40 species of animals, which make it one of the best tourist places in Saudi Arabia. The Riyadh Zoo is one of the oldest tourist attractions in Riyadh where history goes.
It was formerly the King's own park for carrying his wild pets, which later became a zoo and is now open to the public. A suitable place for children and adults alike, where you can find many different animals, and a beautiful playground.
Madinah
Medina – known as one of the most beautiful desert cities and one of the top Places to visit in Saudi Arabia – is second only to Makkah Al-Mukarramah, which is of religious importance to the Islamic religion.
The city has a lot to offer travelers from religious monuments to the stunning cultural traditions that truly distinguish the city from the rest.
The creation of Medina holds a very interesting story. Medina offers a wonderful blend of old Saudi culture and new business culture that has developed in the Kingdom.
This city boasts a vibrant array of shopping malls, restaurants, galleries, and cultural activities as well as many desert activities – all within the city limits. At night, the city's landscape is unparalleled. Surrounded by rolling hills, moonlight is captured in such a way that you truly feel stuck in a magical Arabic fairytale!
Madain Saleh Tombs in Al Ula
It is considered one of Saudi Arabia's famous destinations. In its earlier era, it was the ancient capital of the Nabataean Empire and its location is Al-Ula. During your tour in Mada'in Saleh, you will be dazzled by the palaces, but they are not palaces, but graves in fact, and this will lead you to know and discover those tombs and know the inscriptions on them from the outside with the help of the accompanying tour guide for you.
Mada'in Saleh or the Al-Hijr area is mentioned in the Holy Qur'an, and it is also registered with UNESCO as a World Heritage Site. So do not miss visiting the tombs of Madain Saleh, which is one of the most beautiful tourist areas in Saudi Arabia.
Edge of the world, Saudi Arabia
Have you ever dreamed of reaching the edge of the world? Your chance is in front of you now, as you will reach the edge of the world and enjoy spending a special and different time there from the overlook, as the locals call it, as it is one of the most important tourist attractions in Saudi Arabia, formed by nature in a rare form, where in ancient times there was a large sea, but it became the end of high mountains. This Place is considered one of the most beautiful places in Saudi Arabia, it attracts lovers of adventure, suspense, and excitement, and it will be the best choice for hiking, through which you will spend a unique and different time in the most beautiful tourist areas of Saudi Arabia.
Book Now your activity to the edge of the world
Farasan Island – Jazan
Farasan Island is one of the most popular Saudi Arabia's landmarks, where entertainment and hiking converge with archaeological and historical tourism. It contains some historical places such as the Ottoman castle, which was built in the era of the Ottomans in a distinctive and picturesque architectural form, Beit Al-Jarmal, which was built during the First World War by the Germans and contains a large number of ancient European history, Al-Qassar village, Al-Najdi Mosque, whose construction dates back to For many years, it appears in an Islamic architectural building of great magnificence and beauty, and it is considered one of the landmarks of Saudi Arabia in Islamic art.
On the other hand, the island includes many different beaches and various recreational activities, for example, the coast of the Al-Qandal area or the Al-Qandal forest, which has waterways in the middle, which makes it one of the most beautiful tourist areas in the Kingdom, Al-Ghadeer Bay, and diving is allowed in it because it contains a lot of colourful water creatures. It will be an excellent opportunity for you to see sea creatures and coral reefs, at Abra Beach, and Al-Faqwa Beach.
Sharm Obhur 
Visit one of the most famous places in Saudi Arabia, Sharm Obhur which is located in Saudi Arabia and it is one of the most beautiful regions of Saudi Arabia. The locals resort to it in the summer days during the high temperature to enjoy the various water activities there. What most distinguishes Sharm Obhur is its picturesque nature consisting of wonderful white sand and pure blue water, with designated places To swim free from rocks. And don't miss the amazing sunsets on the beach.
Touqi Valley 
The Valley is a destination for many visitors and tourists as well as the locals, as it is characterized by a rare nature as it is the longest valley interspersed with trees and rocks and it is preferable to visit it in the summer and spring seasons, but the most beautiful scene remains the rain falling as it permeates the rocks and trees in the winter, so the Touqi Valley is among the most important landmarks tourism in Saudi Arabia.
Also, Read: