The kingdom of Bahrain is a very diverse cosmopolitan country, spending holidays in Bahrain is a fascinating experience indeed as you will never be short for things to do.
From scuba diving to camping to cycling to sailing, the kingdom has got it all, and we are here to help you navigate your way around the numerous activities you can do during your next vacation in Bahrain.
Here is our fantastic guide to spending amazing holidays in Bahrain.
Pearl diving in Bahrain
Known as The Pearl of The Gulf, of course, the first thing that comes to mind when thinking of things to do in Bahrain is pearl diving.
The center of natural pearl trade in the world, the kingdom does not allow artificial pearls or trade in them to preserve the industry.
And a few years ago, the government allowed tourism agencies to arrange recreational pearl diving tours in Bahrain. You can enjoy diving, learn all about this age-old trade and get to keep the pearls you find, what more can a person ask for!
In the old days, pearl divers would cover their faces with a cloth and weigh themselves down with a rock to be able to collect oysters. It was a hard job that not all could endure. Nowadays, however, it is a totally different practice.
Pearl diving now is a very popular pastime among people spending their holidays in Bahrain. And for tourists, it is a fantastic recreational activity.
A licensed tour operator must accompany all divers, and gear them up properly. Also, each diver gets to collect a limited number of oysters to check for pearls in them.
Camping in Bahrain
People in Bahrain take camping very seriously, the activity is very popular among both locals and tourists.
The high season for camping in the kingdom in the winter, from November to March you will find almost all camping sites in Bahrain brimming with activities. However, some serious campers love spending the summer nights under the stars. Of course in the harsh gulf summer, you can only camp in the desert during nighttime.
The most famous campsite in Bahrain is Sakhir, where you can find dozens of desert camp sites. People also enjoy camping around the Tree of Life, a 400-year-old huge tree and is about 32 feet high, that sits alone surrounded by sand dunes.
In Bahrain, you can take your tent and set up your own camp, you can rent an existing tent, or you can join an arranged camping tour, anyways you are guaranteed to have fun and spend an unforgettable holiday in Bahrain.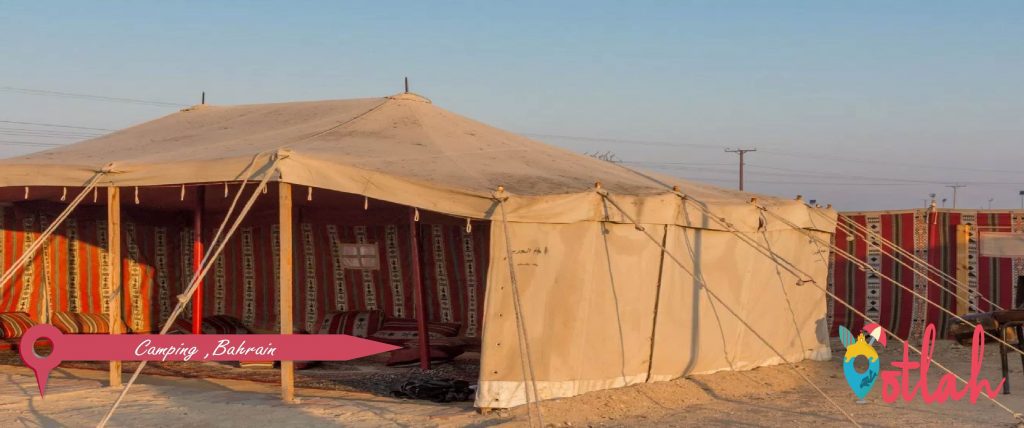 Cycling or biking or bicycling is a very popular activity in many countries, it is a sport, a means of transportation and a way to tour the wonderful attractions of any city.
Combining exercise with fun and exploration, cycling is one of the best ways to boost your mood as well as your energy. It also helps you burn fat, increase muscle mass and sleep better.
In addition to that, Bahrain features many magnificent cycling tracks, so you can find numerous amazing places to enjoy cycling in the Kingdom, whether you choose to go solo or join a cycling tour.
As an archipelago, Bahrain comprises many amazing beaches, and a lot of them feature cycling tracks. There is also a wonderful track to be enjoyed at Al Areen Wildlife Park. Our personal favorite is the cycling tour around Bahrain Fort, as it allows you to enjoy exercising while exploring a wonderful historical site with a backdrop of amazing sea views.
A relaxing pastime or a competitive sport, horse riding can be whatever you want it to be!
Horses are magnificent animals, they are a joy to be around let alone ride. And horse riding has always been associated with luxury and sometimes royalty.
Horseback riding allows people to breathe in the fresh air, explore the city, and enjoy being around striking creatures
This splendid activity can be enjoyed in many locations in Bahrain. Imagine riding a beautiful horse along the golden Bahraini coastline while enjoying the sunrise or sunset, or riding a charming mare between green fields in the countryside…
Yes, this can be you on your next holiday!
Taking a cruise in the Gulf
Looking for a relaxing day on a luxurious yacht?
Looking for a fun day full of water sports like snorkeling and swimming?
Want to explore more of the smaller islands in the kingdom?
Cruises in Bahrain can offer you all that and more, taking a cruise in the Gulf is one of the most popular activities when spending holidays in Bahrain, and for good reason.
The sea breeze offers relief from the hot crowded cities, and you can find many different tours that allow you to enjoy numerous activities from lively water sports to quiet relaxing day trips.
For more about spending holidays in Bahrain see also: