From Aswan to Matrouh… There's a place for a honeymoon in Egypt. As the summer season approaches, the marriage season is starting, and thus the pressures increase when planning the wedding, then the search for honeymoon trips for couples to spend unforgettable honeymoon increases.
Brides and grooms prefer to spend a magical and romantic time during their honeymoon, and Egypt is one of the best honeymoon destinations because of its many tourist locations suitable for a romantic honeymoon.
Honeymoon trips in Egypt
Egypt has so much beauty to offer which makes it a great travel place and one of the best honeymoon destinations. This is due to its fantastic weather, amazing landscapes, golden sandy beaches, and clear waters, making it one of the best ideal honeymoon destinations. 
For thousands of years, Egypt has inspired travelers worldwide, as it is home to the world's oldest and most ancient civilizations. If you love new cities, are fascinated by the serenity of the desert and mountains, adore historical temples and ancient ruins, want to sail in the arms of rivers and seas, want to relax on the best beaches in the world, Egypt is full of amazing honeymoon trips and romantic places that make you express your love. It has everything that any couple can dream of, and the most essential thing is that it suits different tastes and levels. We list for you the top 10 tourist places for the newlyweds in Egypt.
The best 10 Honeymoon places in Egypt
Dahab… Adventure Trips
Dahab, located in the south of Sinai, is one of the most romantic and calm honeymoon trips in Egypt, due to its white beaches, natural beauty, and reasonable prices.
Hiking, Safari, and Diving, as Dahab city offers many recreational activities, the most important of which is diving, as it is an international center for diving. If you want to experience a diving adventure, you can go to the Blue Hole, the Three Balls, Abu Galum, the Blue Lagoon, and the Canyon.
Book Now in Sunny dahab
Resorts and hotels in Dahab
Jaz Dahabeya, Blue Beach Club, Le Meridien Dahab, Swiss Inn Resort Dahab, and Acacia Dahab.
The best time to visit Dahab
 Between March and April, and October and November. 
Sahl Hasheesh… Luxurious Relaxation
Located 18 kilometers from Hurghada, Sahl Hasheesh is a resort known for its gorgeous beaches and pure white sand. It is considered one of the best destinations for a honeymoon in Egypt, where there are many water activities that couples can enjoy and spend an unforgettable romantic time.
Have a luxury accommodation in Sea Breeze Dahab
Things to do in Sahl Hasheesh
Horseback riding – Quad biking – Windsurfing – Relaxing in a luxury spa – Banana boat ride.
Hotels suitable for a honeymoon in Sahl Hasheesh
The Oberoi Sahl Hasheesh, and Baron Palace Sahl Hasheesh.
The best time to visit Sahl Hasheesh
 The period from June to September.
Marsa Alam… Divers Paradise
You can not miss a visit to Marsa Alam if you are looking for a private honeymoon place. It is one of the most wonderful tourist destinations in Egypt, where it has charming beaches filled with coral reefs, luxury, and private resorts.
Stay in the incredible hotel Casa Blue Resort
The most famous tourist attractions in it: Wadi El-Gamal, Abu Hassan El-Shazly tomb, and Mount Hamata, which is characterized by a rare mangrove tree and marine animals.
Safari trips, boat rentals, diving, swimming with dolphins.
Resorts and hotels in Marsa Alam
The Three Corners Equinox Resort, Laguna Beach Resort, Magic Tulip Beach, Blue Reef Resort, Rehana Guest House, Shams Alam Beach, and Aurora Bay Resort.
The best time to visit Marsa Alam
October, November, and December.
Have a perfect time and book now in SOULOTEL INN BLUE Resort & Spa
Alexandria… Beautiful Beaches
If you want to spend your honeymoon in a lively place full of recreational activities, green spaces, multiple services, and vibrant nightlife, then you should choose Alexandria. Alexandria is one of the best honeymoon trips in Egypt because it is the second-largest city in Egypt, and it is also called the "Bride of the Mediterranean" because of its beauty and picturesque beaches that make you refresh.
Spend amazing time in Helnan Mamoura Hotel & Events Center
Swimming, visiting the Alexandria Library, Montazah Palace, Maamoura, Royal Jewelry Museum, Qaitbay Citadel, Alexandria National Museum, Roman Theater, Greek Museum, and Stanley Bridge.
Hotels and resorts in Alexandria
Helnan Palestine Hotel, Four Seasons Hotel Alexandria, Sheraton Montazah Hotel, and Paradise Inn Maamoura.
The best time to visit Alexandria
From March to June.
Siwa Oasis… Positive Vibes
Have you ever thought about spending your honeymoon in an oasis? Think a little, and you will do as many couples love to have a unique experience. Head to Siwa Oasis, located between the Great Sand Sea on the Western Desert, which is considered one of the most untouched and beautiful destinations in Egypt, as it is nicknamed "God's Paradise on Earth". Although it is a desert, you will find everything that attracts you from greenery, hot springs, lakes, palm trees, and fruit trees scattered all over Siwa Oasis.
For booking in Porto Siwa Hostel
Things to do in Siwa Oasis
Safari trips, sandboarding, cycling, climbing Mount Dakrour, swimming in Cleopatra's Hammam, enjoying simple Bedouin sessions, and visiting the most important landmarks in Siwa such as Gebel al-Mawta, Amun Temple, and Shali Fortress. You can also head to a restaurant and enjoy a romantic dinner.
Spend a special time in Siwa Ajubar Resort
Resorts and hotels in Siwa
Siwa Safari Paradise Tourist, Siwa Safari Gardens, Siwa Paradise, Siwa Chali Resort., and Adrere Amellal, which is a different experience as there is no electricity and the place is candlelit making it more romantic.
The best time to visit Siwa Oasis
From January to March.
Sharm El Sheikh… Desert Safari
It is one of the first options available to those who want to spend a romantic honeymoon trip and at the same time full of recreational activities. Sharm El Sheikh overlooks the Red Sea and combines beautiful nature with distinctive amenities. Sharm El Sheikh has the best coral reefs, wonderful sandy beaches, and luxurious resorts.
Diving underwater.

Safari trips.

Bike riding.

Sandboarding.

Staying up at night.

Shopping in the traditional markets.

Naama Bay tour.

Watching the sunrise in Jabal Musa.
Book now in Sharm Grand Plaza Resort and have an amazing time with family and yourpartner
Hotels and resorts in Sharm El Sheikh
Rixos Sharm El Sheikh, Iberotel Palace, Al Fayrouz Resort, Domina Coral Bay, Hilton Sharks Bay Resort, and Jaz Mirabel Beach.
The best time to visit Sharm El Sheikh
April and mid-October to mid-November. 
Book in Magic World Sharm - Club by Jaz with a private peach
Hurghada… Explore Fun Activities
This attractive tourist city, which many couples visit, is one of the most romantic destinations for a honeymoon in Egypt. This is due to the picturesque natural attractions, wonderful sandy beaches, crystal clear waters, rare coral reefs, and high-end resorts.
Safari – diving – windsurfing – playing with dolphins – horse riding – hiking.
Hotels and resorts in Hurghada
Hurghada Marriott Resort, Sunrise Crystal Bay Resort, Desert Rose Hurghada, Soma Bay Hurghada Hotel, Coral beach resort, and El Gouna Resort.
Book in Palma Vision Resort Hurghada and have unforgettable vacation
The best time to visit Hurghada
From April, June, September, and November.
Your dreamed holiday in Bellagio Beach Resort & Spa, book now

An incredible time in Selena Bay Resort & Beach Club
Nuweiba… Camps by the sea
What about sleeping under the stars during your honeymoon? Does it sound truly romantic? If this is convenient for you, you can spend your honeymoon in Nuweiba and stay in many camps. Nuweiba is a coastal city located on the Gulf of Aqaba in the Sinai Peninsula and is characterized by countless camps on the sea, with its natural landscapes, its clear blue sea, and its majestic mountains. Therefore, it is one of the most romantic and suitable destinations for a honeymoon in Egypt.
Enjoy your vacation in the middle of nature in Luna Beach Camp
Things to do in Nuweiba
Walk on the sandy beaches, have a romantic dinner, and watch the sunset.
It's the best time to spend your next vacation in ANNE Sinai's Best Camp & Resturant
Hotels in Nuweiba
There are many camps you can choose from Basata, Nuweiba Lodge, and Habiba Beach Lodge to name a few.
The best time to visit Nuweiba
From November to April.
El Gouna… The luxury city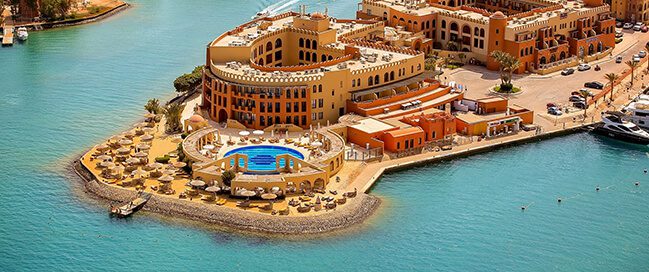 During your visit to El Gouna, expect a mixture of romance, fun, and excitement, where you will find a range of water activities, lakes, luxurious spas, and wonderful sandy beaches.
El Gouna has many high-end romantic resorts where you can spend a romantic honeymoon.
A luxury accommodation in Mangarovy El Gouna
Things to do in El Gouna
Sailing, boat tours, beach walks, snorkeling, windsurfing, watching the sunset, attending concerts, and having a romantic dinner.
The amazing resort in al Gouna Steigenberger Golf Resort El Gouna
Accommodation in El Gouna
Abe Tig Marina, Panorama Bungalows El Gouna Resort, Sheraton Miramar Resort El Gouna
The best time to visit El Gouna
From April to June and from September to November.
Aswan… Cruising Through The Historical Sites
If you are looking for a different place for your honeymoon in Egypt, many couples who visit Aswan should be on your list. This city has the best archaeological and tourist attractions in Egypt.
Aswan is famous for its breathtaking natural beauty, and it is one of the honeymoon places in winter in Egypt and one of the most romantic destinations for honeymooning in Egypt for newlyweds, as it combines beauty and simplicity, and is characterized by warm weather in winter, as well as its historical monuments, and its distinctive location on the Nile River.
Stay in the best city on the nile in Tuya Hotel
Things to do in Aswan
Take a private tour of the High Dam of Aswan, ride a camel to one of the monasteries, visit the Elephant Temple and the Island of Plants, dine at a restaurant on the river, and ride a felucca on the Nile.
Have the best holiday in Aswan , in NUB INN
Accommodations in Aswan
Sofitel Legend Old Cataract Aswan, Movenpick Resort Aswan, Helnan, Orchida St. George.
The best time to visit Aswan
From September to April.