As you might expect, Dubai often gets a reputation for having high-angle cooking concepts. Although you will definitely find these options here, it is undeniable that dining in Dubai, if properly done, means exploring one of the most diverse, vibrant and delicious destinations on earth. Tasting and experiencing the different types of food in Dubai is a new type of exploring food adventure.
Throughout your journey, you can taste the organic labneh panini seasoned with mint and a flurry of crunchy walnuts, beachside chicken Cheetoh sliders, or thyme-packed manousheh. Here are our picks for the best restaurants, where you can eat the best food in Dubai.
Tomo
This Japanese hideout on the 17th floor features some of the city's spectacular views of Burj Khalifa. This is a place where you can experience great food in Dubai.
Order squid thin slices with soy pickled squid, plus a few specialities rolls to start. For the main dish, get wagyu sukiyaki, cooked next to soy sauce, sweet rice wine, or Japanese-style fried chicken.
Enjoy your dessert with a green tea cake rolled with vanilla ice cream.
Aprons and Hammers
Aprons & Hammer located in The DIMC Seyahi. It a natural choice for large group dinners and birthday parties, so expect a festive crowd.
Experience the best sea food in Dubai during your visit to this fabulous restaurant. We recommend you wisely to grab an apron and hammer to break open sea buckets filled with lobster, mussels, shrimp and crab. And have amazing sea trip in Dubai.

Teatro
Teatro Restaurant, which includes many different foods and flavors, is one of the most suitable restaurants in Dubai for dinner. It serves Chinese, Japanese, Indian and Italian cuisine with a varied menu of signature sushi. Not only will you get a different dining experience, but you can also enjoy the elegant decorations and large wooden tables for families and friends, in addition to romantic closed rooms.
La Serre Bistro & Boulangerie
For a French bistro experience in the UAE, there is nothing more elegant or satisfying than the La Serre at the Vida boutique hotel.
A selection of home-made pastries and bread (chocolate, brioche) is served at the boulangerie restaurant, while the richer dishes such as goat cheese and tartin with Bresaola offer you an upscale business lunch on the top floor.
If you are here for dinner, you can share beef rice and toast with fried eggs and goose liver.  Adding with them the Brazilian cream with vanilla custard in Madagascar is a perfect choice.
Mythos Kouzina & Grill
Mythos is one of the most charming restaurants opened in Dubai over the past few years. It is like an intimate taverna with white stone walls and cave-like ceilings.
Although it is located in the Jumeirah Lake Tower, a densely populated neighbourhood with skyscrapers and algae mists, it is totally different.
Start your meal with spicy Feta cheese decorated with olive oil and a fried Graviera cheese imported from Naxos Island.
For the main course, the chicken gyroscope is coiled in a warm grilled pita on charcoal, as is the case with roast octopus with white vinegar sauce and fennel wine.
Loca
This cozy, casual restaurant serves Mexican food in Dubai in a flat-screen industrial area ideal for enjoying the latest sporting events.
Loca recently opened a second location at the Souk Al Bahar Shopping Center, but originally stuck to Dubai Marine Beach Resort.
Start with the guacamole side table before ordering anything that is served with soft tortilla and white corn. On the most adventurous side, you'll find Tamale peeled corn and roast lamb wrapped in banana leaves.
Salt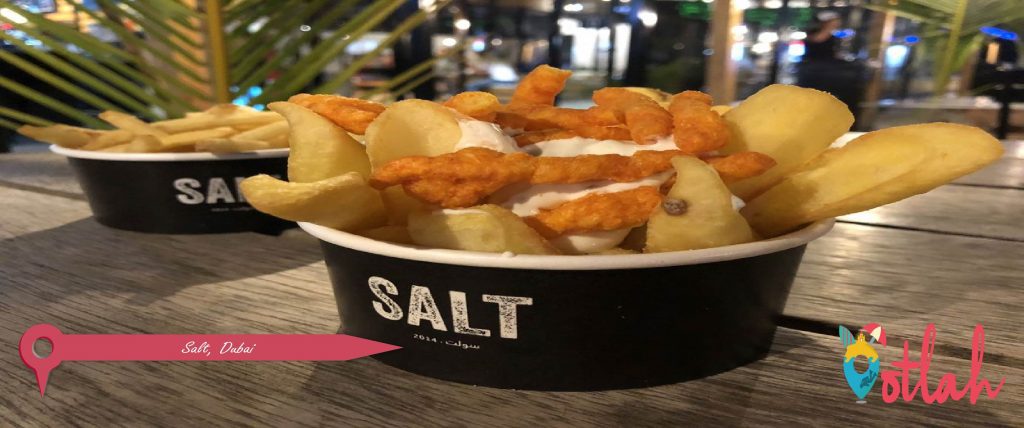 Are you tired of eating indoors, what do you think of eating delicious burgers with french fries near the beach? The burger truck, which includes a menu of unparalleled beef or chicken burgers, and eating your sandwich in the open air on the golden sands under huge umbrellas, makes it one of the most beautiful restaurants in Dubai.
Pierchic
Eating fresh seafood from the Mediterranean in addition to fresh products daily, all of this combined into delicious dishes in one of the best Dubai restaurants specializing in fish with different recipes and foods. Pierchic Restaurant is located on the port of the Arabian Gulf, and it offers a luxurious menu that includes four delicious main dishes that attract the admiration of everyone who eats it from the first time.
Zuma
The London-based Zuma, one of the many imports in Dubai, is a great place to eat sushi food in Dubai in an upscale atmosphere.
Hidden tones and walls of rust steel are in line with fine Arabic engineering works. Expect small izakaya plates to share, such as black cod cabbage with lobster leaves and roasted lobster with ponzu butter shiso.
Sushi and sashimi here are the best in Dubai, so you can choose from them.
Fish Beach Taverna
Fish Beach Taverna is located on the edge of the water at Le Meridien Mina Seyahi.
Follow the cobbled road to an outdoor restaurant filled with white Santorini tables, matched by turquoise accents and a series of sparkling lights.
For a real treat, choose a table on the beach and bury your feet on the sand while looking at the Palm Jumeirah.
Bu Qtair
Bu Qtair introduced Indian tea to pearl divers in the 1980s before it became what it is today: the famous and intense seafood cottage on Kite Beach.
The menu contains three simple options: Hamur, Shari, or Shrimp, served in small, medium or large portions. The real drag is Masala fish legendary sauce.
Baker & Spice
Head here for a mix and match lunch of quiches, salads and vegetables. The four-salad plate is a great way to taste gourmet buffet dishes, but there is also an eclectic menu with a signature of different dishes.
Chashoka and short ribs of braised beef preferably served with a crispy slice of French house bread. Other menu items include seasonal soups, burgers and stone-baked pita with pulled chicken or brisket.
Asma Restaurant 
A different experience of traditional food in the Middle East amid the bohemian decor decorated with earthy colors along with the plants that adorn the place. Asma Restaurant is one of the best restaurants in Dubai Mall, which is located on the first floor near the cinema p5 parking, where the restaurant serves delicious dishes such as Musakhan, labneh with beetroot, and freekeh chicken, along with The most famous dessert dish in Asma Restaurant is "Kunafa with saffron, pudding, and mousse with chocolate."
Explore more cuisine:
Bahrain food: A Journey to taste the best Bahraini dishes
Roasted magic: The best coffee shops in Dubai