If you have never tried to prepare Asian food at home, get ready for treatment. You can bring Asian cuisine to your home. Many of the dishes you like from your favorite restaurant are not as difficult to prepare as you think.
If you ever enjoy a snack from your favorite fast food and think about it, you can do it, this set of recipes is right for you. These are the dishes we eat most often when we have a passion for eating out, by a big margin: you can make these ingredients with ingredients that are present in your grocery store or even in your own kitchen.
When you make it at home, you can adjust spice levels and tailor a meal tailored to your taste. Use these recipes to create a feast for your family, no external menu is required.
Try some on your friends and you'll know how easy it is to have your favorites Asian cuisine at home.
Book Now in on of the best hotels in china 

SSAW Boutique Hotel Shanghai Bund
Chinese Meat Dumplings (Jiaozi)
Jiaozi is a popular dish in Asian cuisine, especially in Dim Sum restaurants and Chinese new year celebrations.
This delicious Chinese dumpling is filled with ground pork or beef, cabbage, bamboo shoots, green onion, ginger, and garlic. It served as an appetizer, with a refreshing dipping sauce made from soy sauce, vinegar, and rice wine.
Recipe:
To make the filling, combine the following ingredients in a mixing bowl. Transfer the cabbage to a food processor after coarsely chopping it. Pulse the cabbage until it's finely chopped but not pureed. (Alternatively, cut the cabbage very finely and strain it in a strainer.) Stir with a pinch of salt, toss well, and set aside for 10 minutes.) To remove extra liquid, place the cabbage on a clean kitchen towel, roll it up, and squeeze it.

Place the cabbage in a large mixing dish. Use your hands to incorporate the pork, scallions, garlic chives, garlic, ginger, soy sauce, and sesame oil; do not overwork the filling or it will become tough. Poach or cook a little bit of the filling to taste for flavor, then adjust the seasonings to your satisfaction.

Prepare a small basin of water for filling the dumplings. In the palm of your hand, flatten a dumpling wrapper. In the center of the wrapper, place a scant tablespoon of the filling. Wet the edges of the wrapper with a finger dipped in water. Fold the dumpling in half to make a half-moon shape, pushing out any excess air as you seal it. If desired, fold a little pleat on either side of the dumpling with your opposing thumbs, then press hard to seal the dumpling together. Place the cookies on a baking pan. Repeat until you've used up all of the fillings; you'll have leftover wrappers.
For booking in 

Campanile Shanghai Jing An
Thai Steamed Dumplings With Dipping Sauce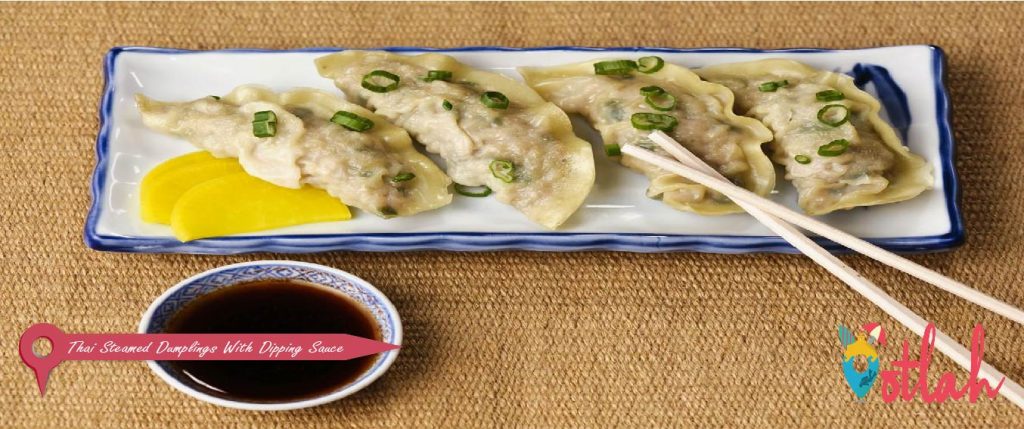 Beef-style pancakes cooked with sliced chicken slices, shiitake mushrooms, and Thai flavors. This fabulous dish offers a great light dinner in the summer from the Asian cuisine or an open buffet entree with a built-in dipping sauce.
Make your holiday special in 

Holiday Inn Express Shanghai Pudong Airport, an IHG Hotel
Stir-Fried Sweet Shrimp
Stir-Fried Sweet Shrimp is another yummy dish from Asian cuisine. These fried shrimp are a little sweet, a little spicy, and feature all the Vietnamese flavors you like.
Make all your ingredients ready before you start to avoid over-cooking the seafood because the shrimp fry up quickly.
You can use the properly sized shrimp to make this dish as the main protein or appetizer, or the smaller shrimp to be served on rice or as part of another presentation.
Recipe:
The key to this dish is to sear the shrimp beforehand. They should not be cooked alongside other vegetables because shrimp have a short cooking time and we don't want them to be overcooked. Shrimps that have been overcooked become rubbery and lose their juiciness.

The shrimp must be cooked in batches. Depending on the size of your pan, choose the number of batches. Arrange a batch of shrimps on the pan at a distance from one another. Shrimps leak moisture when cooked, so cooking too many at once will make them sticky.

Next, cook the remaining vegetables in the pan. The time it takes to cook the vegetables should be longer than the time it takes to boil the shrimp. Crispy vegetables are preferred over soggy ones.

Toss the cooked shrimp with the vegetables, then finish with the sauces.

Toss everything together until it's well coated with sauce. Plate it in your preferred style.
Book Now in the amazing 

Vienna International Hotel Shanghai Pudong Airport Free Trade Zone
Stir-Fried Mixed Vegetables
Roasting vegetables on high heat takes much less time than many other preparations, resulting in crispy vegetables instead of limescale, grey versions that can often result from boiling or excessive evaporation.
This recipe comes with a nice and light sauce that compliments the natural flavor of the vegetables beautifully. Cut all the vegetables into pieces of similar size until they cook as evenly as possible. If you like softer vegetables, cook them for 10 to 20 seconds.
Have a nice Vacation in China with Courtyard by Marriott Shanghai Central
Lemongrass Tamarind Chicken
The unique blend of lemon and tamarind characterizes this chicken dish, with a sweet and sour flavor that contains the extra fruit flavor of tamarind.
The fruit comes fresh, dried, and spice in many Asian markets. If you go to the pasted path, use more fresh or dried to get this firm flavor. Serve on white rice to absorb the sauce.
Recipe:
Marinate the chicken in turmeric, cumin, salt, and freshly ground black pepper for at least 30 minutes.

In a wok, heat the oil, then add the chicken and stir-fried for 5 minutes over high heat.

Chilies, onions, garlic, ginger, lemongrass, carrots, and cinnamon should all be added to the pot. Stir fry for another 2 minutes on high heat.

Cornstarch is dissolved in chicken stock, then added to the wok with tamarind juice and coconut milk. Bring to a boil, then reduce to low heat and cook for 10 minutes, or until chicken is done.

Season with sugar and fish sauce, then serve over freshly cooked jasmine rice and chopped coriander.
It's an amazing time for accommodation in Holiday Inn Shanghai Nanjing Road, an IHG Hotel
Vietnamese Fried Rice
The Chinese influence on Vietnamese cooking is highlighted in this recipe for fried rice. It features lighter flavors of the Chinese type, thanks to lemon juice and fish sauce.
Chinese dried fatty sausages and delicious grilled pork give it a piece of meat that can turn this side dish into a main meal. 
Stay in 

Seventh Heaven Hotel and be in the middle of the famous shopping street Nanjing Road Nanjing Road
Sambal Kangkung With Shrimp Paste
Kangkung is a semi-aquatic plant with edible leaves and stems. Food stalks take a little longer to mature. The unique vegetables taste great with sambal or chili sauce.
Although there are many types of sambal, this recipe calls for oelek sambal. If you are using sambal with shrimp paste already included, adjust the added amount accordingly.
Nice Accommodation in the luxurious five-star 

Swissôtel Grand Shanghai hotel.
Pomelo and Shrimp Salad
Large pomelo fruits can grow up to 10 inches in diameter, but many sellers will sell slices to make them all easier to use before drying.
Pouring the grated pulp with lemon juice, ginger, garlic, and chili pepper highlights its sweet flavor.
Shrimp works beautifully in this Asian cuisine recipe, but you can also use chicken or squid instead. The dressing improves during sitting, so make it first while preparing the rest of the ingredients.
Have a wonderful vacation in 

Campanile Shanghai Bund Hotel
Pandan Rice and Mung Bean Cake
Try this colorful Vietnamese answer on the rice pudding to get a unique dessert served in Asian cuisine. Split beans are cooked faster than the whole, so use them if you can find them.
Fresh coconut milk contains a richer and deeper flavor than canned ones, but you can use the canned version if necessary. Serve hotcakes or at room temperature, sprinkle with coconut milk, and sprinkle with roasted sesame seeds.
Amazing Accommodation in Novotel Shanghai Hongqiao Exhibition
Vietnamese Beef and Noodle Salad
Do not be fooled by the name of this dish. Although it bears the name "salad", it is full of noodles, beef and lots of vegetables to prepare a full meal.
Assembled in layers, with rice noodles on the bottom, fresh vegetables and pickled next, then the seasoned beef slices.
Finally, take it with fresh herbs, chopped peanuts, and fried crisps. The contrasting textures and flavors will make them a new favorite Asian cuisine dish. 
For booking in Crowne Plaza Shanghai Nanjing Road, an IHG Hotel 
Vietnamese Spring Rolls
Use this practical guide to wrapping and folding Vietnam-style spring rolls for a fun project and a satisfying snack. We respond to nice and small fillings for a uniform fill and get all your supplies ready before you start.
It may take a few tries to get this technique right, but you'll need to show it all to your friends once you've mastered it. Serve the final product with a sauce the nuoc Cham.
You can also read: