You will find that many tourists love traveling to Indonesia and enjoy incredible days there, because of how beautiful and adorable this country is. Known to many as Wonderful Indonesia, where it brings you the second-largest tropical forest and numerous virgin beaches with great diving sites and surfing waves. As well as the amazing hiking to active volcanoes and wildlife. There are plenty of places to visit in Indonesia that you can enjoy.
 It's the perfect time to spend your holiday in 

OYO 91455 New Hotelo
Indonesia may not be the first place that many people think to go to, but it is a real hidden gem in Southeast Asia although it is large in size, with more than 17,000 islands with 240 million people!
If you are a lover of classic style book now in 

CLASSICO by Kozystay - Kota Kasablanka
In this large country with all these diverse cultures that cover many time zones, you can find many places to visit in Indonesia from the mysterious island of Bali to the magnificent Dragon Komodo. Indonesia is still far from the radar of the travel map, with the exception of Bali, where its infrastructure is still lacking in development and faces major challenges. Backpackers can enjoy the pleasure of exploring undefeated paths while luxury seekers may find they already have many options as well.
When is the best time to visit Indonesia?
Have an amazing vacation in ibis Styles Jakarta Tanah Abang
Indonesia's Weather
The weather in Indonesia differs from one season to another, known as the two seasons – wet and dry – with warm tropical temperatures averaging 28 ° C throughout the day, throughout the year. In most regions, the dry season runs from May to September, with precipitation between October and April.
Spend a special time in Holiday Inn Express Jakarta Matraman, an IHG Hotel
Generally, the best time of year to visit and enjoy Indonesia tourist places is between May and September when the weather is beautiful and the days are dry and sunny.
Stay in Hilton Garden Inn Jakarta Taman Palem with a luxury accommodation 
However, the temperatures remain high during the rainy season, and the precipitation comes in the form of intense tropical rain for a few hours and you do not need to spoil your flight.
Indonesia's best areas
In some areas, the difference between the two seasons is not extreme: for example, Bali and Kalimantan are not relatively affected by season change, but the contrast usually increases as you travel east to the Nusa Tenggara region (to Lombok Islands, Flores, and beyond) where there is more chance of flooding during the rainy and dry season in the dry areas.
Have a different holiday in wooden rooms at Sakti Garden Resort & Spa
It really depends on your travel plans: Muddy back roads can be a problem during the rainy season if you intend to explore more outside the hammered track sites and harsh seas can make some islands inaccessible.
The best months to dive off the coast of Bali, Lombok, or Komodo National Park are April to September, with harsh seas, especially in January and February.
If you are planning to climb one of the many volcanoes in Indonesia, such as Mount Bromo or Mount Rinjani, a dry season is recommended. Expect the temperature to cool while going up and pack some warmer layers.
Enjoy the nature of Indonesia in Glamping di Jungle, Ciwidey
Kind People of Indonesia
With people of diverse origins and religions, Indonesia has a good mix of Indonesian cultures and festivals, creating a unique kind of melting of species. But one thing that is similar in people is that they are generally nice for travelers. Indonesia vacation is an ideal holiday for families, as Indonesians respect family gatherings and offer many places to visit in Indonesia as well as activities for children.
Diverse cultures bring great food from varieties and flair. Try all of the delicious Indonesian foods like Nasi Padang, Nasi Temple, Nasi Uduk, Pakmi, Kuwaiti, Pako, Soto Ayam, Ayam Bakkar, Gado Gado, Sambal, Koi, and fresh local fruits just to name a few.
Book now in Radisson Lampung Kedaton and have unforgettable holiday  
Festival and Indonesian Food
From street food to home (the restaurant) to fine dining, you can be sure to satisfy your appetite in Indonesia.
Indonesia is a good option for holidays as it has plenty of Indonesian tourist spots. Also, it has a lot to offer for travelers even for those who travel on a budget, but they are willing to take advantage of their time and effort to reach some places that are nice to know that they deserve it.
In short, you must go to Indonesia to discover the beautiful nature of beaches, and the marvelous tropical forests, as well as the active volcanoes and wildlife.
Also, don't forget to learn about the impressive history of monuments, and experience the great diving and surfing. But most of all, you must go to Indonesia to experience all that you offer people to culture and food, which ultimately concludes with what we might call an unforgettable and satisfying journey.
Book in Hotel Santika Premiere Beach Resort Belitung and enjoy with the sea view 
Accommodation and Hotels
Indonesia is a cheap country, it has plenty of hostels and hotels that range from 1-star hotel up to 5-star luxury hotels.
Hostels could cost you 10 American Dollars

The price of a 1-star hotel starts from 26 USD

The average price of a 5-star hotel could be around 357 USD.
Stay in the middle of the garden with a quiet vibes in Garden Inn
Itinerary and activities in Indonesia vacation
It is important to know from where to start your trip to Indonesia vacation, to make sure that you will have fun and enjoy it to the max. For that, we recommend you to begin with Bali, where you will enjoy the best attraction in Indonesia.
After that, Lombok will be your next destination where you can enjoy a quiet and beautiful city. In the end, you can have fun in Jakarta while you are strolling in the most luxurious malls.
Bali

(4-5 Nights)
You can begin your tour with Bali, as it has many attractions and different types of activities. Exploring Bali will need about 4 to 5 nights in this fabulous city.
For booking in RedDoorz Plus near Ramayana Pematangsiantar, click here 
Bali is one of the most popular travel destinations in the world and the most popular destination for Indonesia vacation, and with good reason, this island of gods is one of the most beautiful places on earth.
Surrounded by the azure sea and golden beaches, Bali is considered a paradise for the surfing lover, and if you are looking for a beach vacation, there is no better place to find it than this gorgeous island located in central Indonesia.
Besides the sea and sand, Bali has many other attractions to enjoy such as temples, museums, and caves, as well as waterfalls and markets.
Book now in Casa Nemo Beach Resort & Spa
If you are a history lover and like culture, you can spend hours learning local and Balinese myths. Also, you can learn about the traditions in places like Ubud.
If you like adventure activities, you will not be disappointed on a trip here, and you can expect an impressive array of water sports, water diving and snorkeling, and the opportunity to travel through a forest canopy like Tarzan.
Book now in Sheraton Belitung Resort and enjoy your time on the beach 
Here is a list of the most popular activities that you can enjoy at Bali:
1- Explore the paddy fields of Tabanan
Those looking for something a little different in Bali can head to the Tabanan area covered with lush rice sparkling with emerald colors in the sun, which is one of the best places to visit in Indonesia.
The big lot here is that in addition to examining the scenery, you can also share and learn how to grow and harvest rice in Bali. If you're feeling adventurous, you can sweep mud in the paddy field and choose some of it.
Book now in Sinar Sport Hotel
2- Spend time with the monkeys at Monkey Forest
One of the stunning places to visit in Indonesia is Monkey Forest. Monkey Forest is a Hindu temple complex in Ubud and also one of its main landmarks. The complex is filled with more than 500 monkeys and the three temples that remain here dating back to the fourteenth century.
Stay in Sumatra Surf Resort with the perfect vibes 
The whole area is a nature reserve and you can walk around and wander around the landscape as well as take pictures of monkeys.
You can buy bananas to feed primates from the main entrance, but beware if you have anything else you want such as sunglasses or water bottles that the monkeys have been known to take over as many visitors as you can.
3- Get back to nature at Bali Zoo
Bali Zoo is located in Gianyar Regency, and if you want to check out some Southeast Asian animals this is one of the best places to visit in Indonesia and to do it.
The zoo consists of outdoor containers instead of cages designed to mimic the natural habitats of the species here. Some of these include tigers, elephants, rhinoceroses, and a group of colorful birds, and you can either visit during the day or choose the perfect night safari if you want to see some of the nocturnal animals that summon the zoo home.
4- Strap on a jetpack in Tanjung Benoa
Tanjung Benoa is the place to come to Bali if you want to try watersports and you can find a range of different activities on offer.
However, one of the most exciting is the water jet link, which allows you to fly up to the sky at a height of 10 meters and sessions usually last about 20 minutes.
One of the big draws of using jetpacking is the opportunity to enjoy the beauty of Bali island from the air, even if you haven't done something like this before our professional coaches teach you how to fly in a safe and controlled environment.
5- Go snorkeling in Amed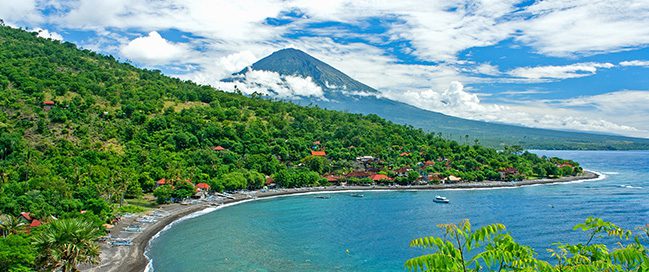 If you're looking for a quieter corner in Bali without the hassle of crowds pouring in tourists here, Amed is a great choice.
This part of the island is still relatively far from radar and not quite a city, but rather a group of villages lying near the sea. Forming one of the most adorable places to visit in Indonesia.
The reason many people come here is snorkeling and diving is because the visibility is excellent and you can dive at a relatively cheap price compared to other parts of Bali.
6- Turtle Island Bali Tanjung Benoa
One of the family activities you can do in Tanjung Benoa during your vacation, along with water sports is Turtle Island Bali Tour with a glass-bottom boat.
This creates an opportunity for a water sports operator in Tanjungbenoa, to provide boat trips while visiting Turtle Island and to maintain the marine park abroad.
While you are on a glass-bottom boat, the boat driver will accompany you. From the glass-bottom boat, you can enjoy beautiful underwater scenery without having to join scuba diving.
You also can see the beautiful coral reefs, a variety of ornamental fish, and marine plants as well as other marine animals. Do not forget to bring bread so that children can feed the fish while they are on the boat.
Lombok

(3-4 Nights)
After Bali, you can visit Lombok, where you can find peace and quietness. Exploring Lombok only needs from 3 to 4 nights to allow yourself to enjoy the best beaches ever. 
Lombok offers many beaches of empty and often isolated beaches. It is a great place to have an unforgettable Indonesia vacation, as it is quieter than Bali.
It also has friendly and interesting people, as well as delicious food and wonderful nature.
Transportation to Lombok
To reach Lombok, there are only two options, the plane, and the boat.
You can take flights from many cities in Indonesia to Lombok, which is more recommended than taking a boat, however, you can take a boat to Lombok from eg Bali, Gili Islands or Sumbawa.
Here is a list of the best and top activities that you can do in Lombok:
1- Pusuk Monkey Forest
The second option to reach Bangsal is to winding along a scenic mountain landscape. In it, you will find a forest of monkeys, named after many wild monkeys, in the forest, and near the street. Feed the little bastards hungry and annoying at the views if you like.
2- Pink Beach
It's no longer just a tip, but it's still worth a visit! If you get there, you will be rewarded with a quiet, deserted beach. It is called after the pink sand that consists of coral.
The view from the nearby viewpoint is also great, and the slopes worth seeing in Tanjung Ringgit are close to the hotel. It's one of the most beautiful places to visit in Indonesia.
3- Mosques and Hindu temples
Unlike Bali, Lombok and the rest of Indonesia are mainly Muslim. This is why you can see mosques, especially hearing them everywhere.
Also, the Balinese minority in Lombok acquired its temples such as Pura Meru, Pura Lingsar, Pura Narmada, or Pura Patu Bolong. Most of them are located in the western part of the island and around Mataram / Cakranegara or Senggigi. It is one of the worthy places to visit in Indonesia, especially for history lovers. 
Jakarta

(2-3 Nights)
Jakarta has the most luxurious malls in the country, for that we recommend visiting it at the end of your trip so that you can travel freely all over the country without being annoyed by your belongings. It only needs from 2 to 3 nights to explore it and have fun while strolling through the city and its leisure malls.
Jakarta is the capital of Indonesia for now but nowadays they are looking to make Java the capital. Jakarta is a sprawling megacity, with more than 10 million people of diverse ethnic backgrounds from all over Indonesia. During the day, the number increases as passengers arrive to work in the city and flock again in the evening.
Jakarta Pusat or Central Jakarta is the place where you can find the most famous landmarks such as Monas, Independence Mosque, Merdeka Palace, National Museum, Jakarta Cathedral, Monumen Selamat Datang or the welcoming monument widely known as Pondiran Hai.
Some prestigious malls and upscale hotels are located in the heart of Central Jakarta. Here you can enjoy the excitement 24 hours a day in Jakarta!
Also, Read: