No matter what you want, or what kind of tourist you are, you are bound to love Bali. The island promises everything and more! If you are the kind who appreciates luxury Bali is your fancy haven. If you want a backpacking adventure Bali is your perfect destination. If you want extreme water sports Bali is your aqua park. And just like the island, hotels in Bali are diverse and plentiful. If you want to know where to stay in Bali we have got you covered.
From luxurious resorts to cozy hostels, hotels in Bali are generally unique and beautiful. And the generosity and hospitality of the Balinese are unmatched.
So, if you are heading to the island with mesmerizing scenery and wondering where to stay in Bali we are here to help, these are the best hotels in Bali.
Where to stay in Bali?
Alassari Plantation
Featuring the remarkably rich Balinese culture, this hotel sits high in the rain forests of the sacred Mount Batu Karu in central Bali.
Alassari Plantation offers one of the most unique luxurious accommodations in Selemadeg, which make it one of the best hotels to stay in Bali . It also offers an outdoor pool and an authentic spa.
A family hotel developed with love, the entire property was designed and constructed by the owners and their staff. It is marvelously designed and constructed with natural wood and open areas as the main design elements.
The private villas are very spacious, and the hotel grounds resemble a private jungle, complete with a stunning waterfall.
Puri Wulandari Boutique Resort & Spa
One of the best resorts in Bali with an infinity pool overlooking the jungle, this hotel offers one of the most luxurious accommodations in Bali.
The design of the hotel resembles a Balinese village amidst beautiful emerald rice fields. The rooms are simply decorated in an elegant rustic style. And the amenities of the hotel are all state of the art.
The hotel is renowned for offering the best hospitality in the area, and also the best breakfast, and the most delicious bakery.
This chic hotel enjoys one of the best locations in Ubud, situated amidst picturesque scenery and overlooking a small river.
Moreover, some rooms in the hotel feature private swimming pools for your convenience.
Chapung Sebali Resort & Spa
This luxurious five star resort is situated amidst a traditional village on scenic hillside of Ubud. The hotel comprises elegant yet simply designed villas with private pools set among incredibly beautiful scenery.
You can enjoy a multitude of activities in this hotel, such as yoga classes, rice field trekking, horse-riding and cycling activities. You can even take a bike to the nearby town.
Some of the most renowned features in this hotel are the stunning infinity pool overlooking the valley and the world famous Jungle Fish pool bar.
i-Villa by Karaniya Experience
When luxury blends with tradition in a uniquely stunning mix! This hotel promises to tailor a luxurious experience just for you!
The exquisitely designed villas feature private pools and beautiful sundecks with an added bonus of a personal round-the-clock butler service.
The hotel also offers complimentary bikes; you can ride your bike to the nearby Seminyak Beach.
In addition to that, toothsome breakfast and a refreshing high tea are served daily to hotel guests as well as mouthwatering organic chocolates.
Mandala Desa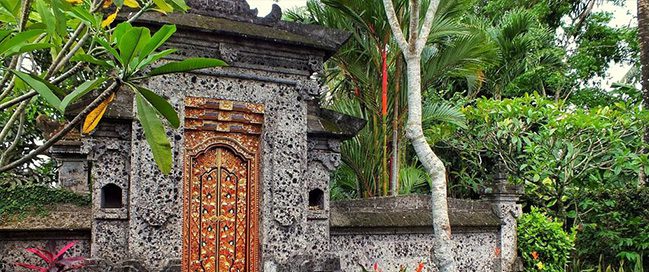 Typical Balinese design and architecture distinguish this beautiful quiet hotel, as well as the marvelous location amongst lush green fields and local villages.
This peaceful retreat with soothing views of the rice fields features an outdoor pool and an organic restaurant that serves both Balinese and international cuisines.
If you really want to experience the true essence of Bali without compromising your comfort then this serene getaway amidst villages and rice paddies is the perfect choice.
Putu's Paradise Guesthouse
For the adventurous type looking for an authentic Balinese experience and looking for a traditional accommodation in Bali we have picked this quaint guesthouse.
Small does not mean that it sacrifices either beauty or comfort, , Putu's Paradise Guesthouse features a lovely terrace overlooking the lush private garden. All rooms are spacious featuring sitting areas, and some rooms even feature private balconies.
The best thing about this hotel is that it is situated in close proximity of the landmarks in the area. This lovely guesthouse is Located within 300 meters of Ubud Monkey Forest, a short distance from Ubud Market, 1 km from Ubud Palace and 2.7 km from Elephant Cave.
You can either use a bike like traditional Balinese to tour these attractions or you can even walk among the beautiful fields.
Amankila
Make your way to Bali's less-explored and truly rural east coast; the stunning watery horizon comes into view soon after the almost-hidden sign for Amankila has encouraged you to veer off the road. This is the paradise travelers dream of a world away from traffic-clogged, built-up Seminyak and Nusa Dua with greenery reaching for miles below and the island of Nusa Penida in the distance. The moniker "calm hill" refers to one of the earliest Aman resorts, which is now as attractive as ever.
Six Senses Uluwatu
You feel as though you're on the verge of collapsing from the time you arrive. Six Senses Uluwatu is a fan-shaped facility carved into a high clifftop on Bali's southern coast, with the pool to end all pool discussions, with an infinity-edged blue stretch of water that extends to meet sky and clouds. Six Senses is a wellness pioneer in the hospitality business, and they bring their A-game to Bali with a long menu of spa treatments, an Integrated Wellness Screening, and an organic kitchen garden, given that Bali is a destination for health-seekers.
Hotel Tugu Bali
Walking into Hotel Tugu Bali transports you to an earlier Indonesia. You suddenly realize you're standing in the softly illuminated foyer beneath a large carved wooden pagoda, which is actually a 150-year-old sacred ceremonial hall that was moved piece by piece from a town in central Bali. It's one of tens of thousands of precious artifacts that the owner, Indonesia's largest antique collector, has erected on the outskirts of Canggu's Batu Bolong beach.
It's all part of a plan to save Indonesia's nearly-forgotten civilizations (Tugu means "monument" in Indonesian). That's only the top of the iceberg. Rooms are made up of several villas, many of which are modeled on Javanese timber houses and are each completely distinct. (For example, the Rejang Suite on the upper floors of a Javanese house features beautiful old wooden floors, a carved four-poster bed, and a rustic sun porch lined with wood-paneled colorful glass windows that overlook the garden.)
To learn more about where to stay in Bali see also: