Planning a vacation in Turkey? Discover and book the best luxury five-star hotels in Turkey, retreat boutiques, holiday villas, and in-house special experiences.
Along the border between Eastern Europe and Western Asia, Turkey has long been an interesting destination for travellers. It's steeped in history – there are a lot of antiquities and antiquities – but you can explore our collection and you will also discover some completely modern boutique hotels in Istanbul and luxury holiday areas in Bodrum and beyond.
Hotels in Istanbul and throughout Turkey cover a full range of residences, from luxurious palace hotels to charming historic inns to simple, clean, and cheap lodgings, to renting villas and apartments.
Turkey has hundreds of special places to stay that don't easily fit into star categories: Ottoman Palace hostels, historic homes, boutique hotels, Cappadocian cave residences, etc. These often have many personalities, at least some modern amenities, and sometimes all amenities. Here is a list of the best hotels in Turkey that you can stay in.
Hotel Villa Turka
One of the best hotels in Turkey is Villa Turka. This is a really elegant hotel with comfortable rooms, great home cooking, and great views.
The multinational crew attracts discerning travelers who want a unique stay in one of the most picturesque locations on the Turkish Mediterranean coast.
It is located in Alanya with very scenic views. Scrolling down the steep hill from the giant 'rock' that is the hallmark of this lively resort, you look left and down to a stunning medieval tower of red stone, beyond which the port is located, setting a framework for the high Taurus Mountains.
A small beach is just a 5-minute walk from the hotel, and promenades in the fortified castle area everywhere, yet the bustling city center is just a 10-minute walk away.
Vernacular architecture at its best, this elegant 19th-century Ottoman palace was magnificently restored to its former glory.
Due to the slope of the hill on which it was built, Villa Turka is pendent balconies and verandas supported by 18-foot rice planks. Set in its lush grounds, this is what a true boutique hotel revolves around.
This is really a family-run concern, as Ayşe, Lütfullah and their offspring Cem and Muge play a warm, welcoming and discreet role in catering to guests' needs.
The 11 rooms consist of a variety of sizes, and this is reflected in the price, with one suite, several superior rooms, and some standard rooms.
However, everything is equally comfortable and aesthetically pleasing, with the authentic Ottoman Turkish style accompanying the necessary modern means such as air conditioning and flat-screen TVs. One bar, all rooms enjoy panoramic views of the sea and castle.
Ayşe's home cooking is great and the breakfast menu changes depending on the seasonal availability of some products, for example. Wild mushrooms.
Fresh yogurt comes from a neighbor's cow, and a large portion of fresh fruit comes from the hotel's trees and bakes bread and pastries on site.
Evening meals are served on request and always fresh fish (which is not farmed at all) – noon meals such as fresh carob cakes are fun.
Courtyard Hotel Kalkan
Kalkan hosts this boutique hotel located in a former Greek fishing village, as it is historically elegant, and serves great breakfasts on the balcony with sweeping views, not to mention the rooftop barbecues.
The courtyard is located at the end of a narrow and quiet street that extends at right angles to the port and on the waterfront, just a few minutes walk away, and is ideally located to make the most of the attractive cafes and restaurants in Kalkan.
Three startling century cottages have been renovated to make it one of the most adorable hotels in Turkey and the leading boutique hotel in Kalkan.
There are only six rooms, each individually designed, which range around a quiet and elegant courtyard, with characteristic mosaic flooring of gravel, potted plants, the spread of bougainvillea, and lounging benches.
The friendly and hot British-Turkish Marion and Hillel team have a master's role in measuring the requirements of their guests.
If you want to join an improvised rooftop barbecue party, you will feel very welcome; if you prefer to keep yourself for the duration of your stay, the same amount will be taken care of.
The sweet-smelling wood floors, ceilings, windows, and blinds are designed by the first-class craftsman and are completely complemented by light-colored neutral walls, soft white linens, and stone fireplaces, while the bathrooms are modern, stylish. It will be difficult for you to find more elegant and harmonious rooms than anywhere in Turkey.
With this great selection of local dining establishments (side grills), there are no meals offered other than a wonderful breakfast, which is generally eaten on an attractive terrace with sweeping views of the city, the bay, and the small islands.
There is a great offer to enjoy the view, including fresh cheese, olives, pastries, jam, honey, yogurt, and more, as well as fresh coffee and juices.
Sumahan on the Water
Sumahan is one of the most fascinating hotels in Istanbul.  Formerly an Ottoman-era distillery, it was converted into an award-winning hotel by its distinguished American Turkish owners.
Since the hotel is located on the Asian side of the Bosphorus in Istanbul, guests arrive from Europe at the launch of the hotel itself. There can be a few fine ways to start a visit to Istanbul.
The launch of the hotel will take you to the European side of the Bosphorus in Kabatch – a wonderful scenic journey in itself – from where it is easy to catch the tram to the old city, which is a ferry to the Princes' Islands, or take a funicular train to the Buzz Beyoglu.
It is hard to imagine a better combination of a great waterfront location, a magnificent historic building, and sympathetic contemporary restoration.
Inside there are plenty of exposed bricks, stoneworks, steel beams, and split levels, while from the outside, the simple functional façade draws attention from its symmetrical arched windows and a green dining table.
Sumahan also seems the perfect place to experience the traditional Turkish spirit, rakı (the best with mezze and fish meal), and for decades the soul produced in raki production, drawn from fig syrup, was produced here.
The ancestors of the co-owners of Nedret were actually the owners of the distillery, so it seems very appropriate that she and her American husband, Mark, would still preside over this large old historic building. It is very easy for both to be engineers by profession.
There is an intimacy here that is hard to imagine in a city of more than 15 million people, and it seems that it is always a member of the staff on hand to cater to the needs of the guests.
The fitness center has the latest machines, and at the other end of the spectrum of activity, there is a well-equipped library of over 800 books linked to Turkey – ideal for discovering more about art, literature, history, and Istanbul's vibrant sites – and a relaxing wellness center offering a variety of massages.
One of the best things about Sumahan is that all rooms have a great view of the Bosphorus, and you can either lie on the bed or sit on a comfortable chair, watching the sun play on the water outside.
Light flows into carefully designed rooms through floor-to-ceiling windows, illuminating contemporary interiors elegantly, but never volatile.
Think of natural wood floors, neutral walls, simple lively curtains, elegant upholstery, upholstered tastefully, small vases of flowers, modern Italian light fixtures, and flames caused by the real fires of most rooms.
Breakfast, which is eaten in a comfortable room in the basement, is a wonderful Turkish and international restaurant, with everything from homemade jams to fresh goat's cheese, crunchy mushrooms to fresh coffee.
The on-site Waterfront Restaurant is good for international dishes, including pasta, grilled meat, and fish, although Turkish dishes are available – try the delicious kuzu sırtı külbastı (lamb meat served with smoked eggplant purée, peppers, onions, and pomegranate filled with molasses).
Home-made delicious wines are also available. All these features make Sumahan one of the most luxurious hotels in Turkey that you can visit or stay in.
Pera Palace Hotel
Another great hotel and one of the best hotels in Turkey is the Pera Palace Hotel. Located in Istanbul, it does not come full of history or air.
As the hotel was built by Belgian businessman George Nagelmakers to accommodate passengers arriving on the Orient Express train from Paris. Guests here bring everyone from Ernest Hemingway and Agatha Christie to Atatürk and Greta Garbo.
Hotel Villa Mahal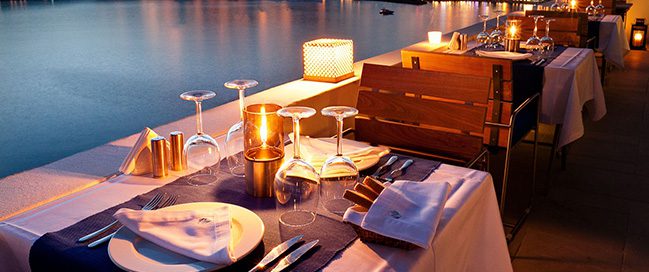 One of the best boutique hotels in Turkey, especially in this beautiful corner of Kalkan in southwestern Turkey. This small, friendly, extremely elegant, and stylish run hotel is the perfect place for a relaxing romantic break or as a base for exploring the magnificent ancient sites, the indented coastal coastline, and the backyard area of Lycia.
Greenwood Suites Resort
And if you are looking for a special and unique accommodation in a fancy hotel with a huge water park to make your kids enjoy their time without any boredom, Greenwood Suites Resort would be the ideal choice. It's one of the most fun and interesting hotels in Turkey with a water park and ranking as a 5-star luxury hotel, situated close to Antalium Premium Mall Lara/Kundu. And also, it is one of the best hotels for families in Turkey due to the fact that it contains a water park and a private beach as well.
Discover more about Turkey: