Diversity in tourism is an opportunity for the country to prosper and progress. Therefore, we find in Egypt various types of tourism that represent a large part of Egypt's GDP. Egypt has always been known for its history, pyramids, pharaohs, temples, great monuments, and it is also known for its cultural and civilizational heritage that dates back thousands of years, but it contains what contributes and supports this heritage, which is Egypt nature.
Types of Egypt Nature Reserves
Nature reserves for practical research.

Nature reserves as national natural parks.

Reserves of ancient national antiquities.

Natural reserves.

Preserves of beautiful landscapes.

Important natural resources reserves.

Natural reserves for the important national heritage.

Multipurpose nature reserves.
Book your next vacation in Deep south Eco-lodge
The importance of nature reserves in Egypt
The importance of nature reserves lies in the protection of many types of living organisms, whether they are plants or animals, whose existence has been affected due to several reasons, including changing climatic conditions on the earth's surface, pollution, the use of many harmful chemicals by humans and their disposal from forests and logging.
Egypt contains many natural reserves (more than 30 nature reserves) that protect natural resources and maintain ecological balance. The types of natural reserves in Egypt are many and different, through this article you will learn about the 10 most famous nature reserves in Egypt.
Enjoy your time in Sataya Resort Marsa Alam
Nature Reserves in Egypt
In Egypt, there are different environments from the sea to the desert. Egypt includes the Western and Eastern Sahara, the Sinai Peninsula, the Red Sea coast, and the Mediterranean coast. In addition to rare species of animals and plants; Next to coral reefs and colorful underwater fish.
More than 20 years ago, the Egyptian government declared some areas as nature reserves; The most famous of them are:
Ras Mohamed Nature Reserve
It is a famous reserve located in the Sinai Peninsula between the Suez Gulf and the Aqaba Gulf and about 20 km from Sharm El-Sheikh. It was the first declared protected area in Egypt in 1983. This reserve is an important place as a tourist area and a diving site, as it is very important in protecting the biodiversity of marine life and terrestrial wildlife. It contains rare plants such as mangroves, dum palms, and acacia trees, as well as wonderful coral reefs, mollusks, and sea urchins. You can discover more than 1,500 marine animals there, that is why it is a famous diving and snorkeling site.
Have an amazing time in Chez Sam
Book now in Sunny Beach Resort
Zaraniq Protectorate
Zaraniq Protectorate is a wetland and one of the most amazing nature reserves in Egypt. It is located in the eastern end of Lake Bardawil, about 30 km west of El Arish and 300 km from Cairo. This region is distinguished by its importance and unique location that connects the continents of Asia, Africa, and Europe. It includes an impressive collection of more than 270 plants and animals, along with some rare species of migratory birds.
Have a luxury vacation in Retac El Arish
Book now in Holy Valley Hotel
Jabal Elba Reserve
The Elba Mountain Reserve is classified as an important national park reserve. It is also considered one of the largest Egyptian natural reserves and one of the Red Sea reserves, as it is located in the Red Sea Governorate, specifically in Halayeb, 1300 km away from Cairo. The reserve contains many natural and cultural resources, including wildlife, rare plants, and pharaonic antiquities, in addition to water resources from wells and freshwater springs. It also has a large number of coral reefs, amazing marine creatures, and rare birds.
In one of the best destinations in Egypt, stay in Morgenland Holly Village in Sant cha
Saint Catherine protectorate
This reserve located on Mount Saint Catherine is a historical reserve with a unique cultural heritage represented by Saint Catherine Monastery with its architectural things and archaeological treasures. It is considered an important nature reserve as it is one of the most important places where there are more than 400 rare plants and many types of reptiles.
 The amazing Sheikh Mousa Bedouin camp
Nabq Protected Area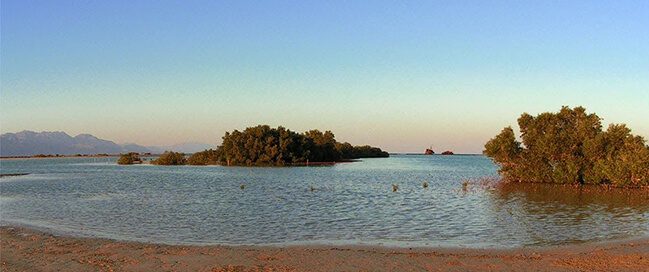 The reserve is located between Sharm el-Sheikh and Dahab in South Sinai. It has an area of ​​600 square kilometers, and it is 500 kilometers from Cairo. Nabq Protected is a multi-purpose reserve, as it is characterized by coral reefs, marine and terrestrial creatures, and mangrove forests of unique nature. There are also desert and mountain ecosystems, valleys, various animals, and migratory and resident birds. The tourist area attracts a lot of diving, safari, and bird watching enthusiasts.
Book Now in Caesar Camp
Al Ahrash Reserve
El Ahrash Reserve is located in the northeast corner of Egypt and about 370 km from Cairo. It is characterized by sand dune areas that reach 60 meters in height above sea level. The reserve is famous for its trees and plants, which are covered in high densities such as camphor trees, making it a haven for those looking for tranquility and nature.
Enjoy your time by booking in Dahb south sinai 
Wadi El-Rayan Reserve
It is a natural reserve in the Fayoum governorate, 150 kilometers from Cairo. Wadi El-Rayan Reserve covers an area of ​​1759 km and is distinguished by its desert environment, including sand dunes, large water bodies, marine excavations, plant life, and a variety of wildlife (more than 15 species of wildlife).
Have an amazing time in Sun Lake Hotel
Abu Galum Protected
If you want to enjoy an amazing panoramic view that you will not see anywhere and are looking for a quiet haven away from the hustle and bustle of the city, then you should visit the Abu Gallum Reserve, which is characterized by a special geographical nature, as the mountains close to the beaches. The reserve is located on the Aqaba Gulf between Sharm El Sheikh and Taba and is 600 km from Cairo. With an area of ​​500 km, it contains a lot of coral reefs, marine, and terrestrial creatures, and colorful fish; In addition to more than 165 rare plant species, 44 of them are found only in this region.
A Luxury accommodation inQueen Hotel Fayoum
Best time of the year to spend in Tzila Lodge
Qarun Protected Area
If you love birds, then Lake Qarun Reserve is heaven for you. This place is designated as an important birding area, as the area is home to many different kinds of birds as well as flamingo birds.
Lake Qarun Reserve – which is considered the oldest lake in the world – is located in the Fayoum Governorate, and the distance from Cairo is 90 km.
A Wonderful vacation in Baraka Camp
Luxury holiday Steigenberger Hotel & Nelson Village, Taba
White Desert National Park
It is a nature reserve in the New Valley Governorate, located 500 km from Cairo. It is named desert white because the white color covers most of it. The White Desert is popular for its white chalk white rocks formed from erosion factors. Farafra Oasis and the White Desert are among the most popular tourist destinations in the region, and also a popular sites for camping trips.
Read More
Museums in Egypt: Discover a history full of treasures, culture and art
Camping in Egypt: 7 Spots to Enjoy the Most Pleasant Camping Experience