Icon of tourism in Egypt and the world; Dahab is the city you'll want to go back to. Dahab is aptly named due to its tourist and historical value, which is valued as gold that never rusts, no matter how many years pass. Dahab tourist Places include several sites and landmarks worth visiting, including Dahab restaurants that serve delicious food in Dahab and dishes with high-quality food. Join us for a food adventure through the most popular and best restaurants in Dahab.
Check now best Hotels in Dahab
Dahab city
Dahab is a small town situated on the southeast coast of the Sinai Peninsula in Egypt, near Sharm El Sheikh.  Dahab city has become very popular. This charming city, which started from being just a simple Bedouin fishing village, now has one of the most magical coastal cities in Egypt. In Dahab, you can find the most beautiful beaches and resorts with picturesque nature that captivates you. It is also distinguished by the availability of recreational activities, you can find numerous things to do in Dahab such as diving in the most beautiful water sports and watching rare coloured fish as it is one of the most popular diving destinations in Sinai. In addition, there are many restaurants with delicious foods at cheap prices.
Have a great time in Shams Hotel & Dive Centre
The best restaurants in Dahab 
Dahab is a coastal town, so you will find a large number of restaurants and cafes offering delicious dishes, especially seafood. This list includes the best restaurants in Dahab:
Everyday cafe
It is considered one of the most popular restaurants in Dahab. It serves its food and drinks to the melodies of music from all over the world, as it serves breakfasts, oriental and international dishes, and sweets. It is distinguished by its marvellous decoration and the inclusion of a popular "swing" over the water, where tourists come to take the most beautiful pictures. Concerts are also held every day.
Overall Ratings 4.5 
King Chicken 
It is very popular with tourists in Dahab due to its low prices and the quality of its dishes. This restaurant is considered one of the best-grilled chicken restaurants, offering the best types of different dishes, in addition to oriental cuisine. Not only is it grilled, but it also serves a variety of Egyptian dishes, most notably Molokhia, kofta, salads, and sweets. Chicken King Restaurant isn't located on the beachfront, but you will always find the place crowded because it has the most delicious grilled chicken ever.
Overall Ratings 4.5 
Wonderful vibes in Lighthouse Rooftop Sea&Mountain
Athanor Cafe-Pizzeria
Here the Italian food is served at its best. This restaurant is known for serving the best types of pasta and pizzas with Italian flavors, and it also serves homemade burgers. The restaurant is also famous for its cheesecake and chocolate desserts.
Overall Ratings 4.5 
Ralph's German Bakery
It is the best breakfast restaurant, serving German-style pastries such as croissants and desserts, and an excellent selection of freshly baked bread.
Overall Ratings 4.5 
Have a great experience in Dahab in Sheikh Ali Dahab Resort
Ali Baba Restaurant
This restaurant is one of the best restaurants in Dahab overlooking the sea. Ali Baba Restaurant offers a range of fresh seafood, as well as light bites and breakfasts. It is also very popular with Dahab visitors due to its wonderful sea view, its good reputation, its friendly staff, as well as its varied menu that suits all visitors' tastes, including seafood and meat dishes as well as great poultry and barbeques.
Overall Ratings 4.5
Enjoy a perfect time in The Bedouin Moon
Ramez and Paula Restaurant
It is one of the best restaurants in Dahab that serves Italian cuisine, where Italian chefs work in the place, and it offers a wonderful variety of delicious pastries and baked goods that many adore and suitable for breakfast and dinner as well.
Overall Ratings 4.2
Enjoy the excellent service in Tropitel Dahab Oasis
Yum Yum restaurant
Yum Yum Restaurant is one of the best restaurants in Dahab to eat authentic Egyptian food, especially falafel, beans, hummus, koshary, and other delicious foods. This restaurant attracts large numbers of locals and tourists, as it is characterized by its reasonable prices for everyone. It is located in Al Mamsha El Seyahi in Al Mashrabiya area.
Overall Ratings 4.5
Check now Le Méridien Dahab Resort & SPA
Tourism in Dahab
Tourism in Dahab is an adventure. Although it is a quiet city in South Sinai province, there are many things to do in Dahab, but the city's beaches have its own charm, where you can enjoy the sunshine, enjoy the white sand, dive in the clear waters, also climb mountains and safari trips.
The Egyptian city of Dahab is famous for its long walkway parallel to the sea, bordered from the north by a variety of hotels, various stores, cafes, restaurants, and diving centers.
Places to visit in Dahab
The Egyptian city of Dahab has many wonderful and popular tourist destinations, such as:
Mount Tawilat
It is one of the most beautiful nightlife in Dahab, where you will enjoy Bedouin songs and Tanoura shows, as well as Bedouin food and the popular maramia tea drink.
Book now in the best Resort in Dahab 
Abu Galum
Abu Galum is an attraction for tourists. It is located on the Gulf of Aqaba, and it is characterized by combining the mountainous and beachy environment, making it a distinctive place with the proximity of the mountains to the beach, which makes the view amazing. It contains many types of coral reefs and colorful fish, and it also includes many types of plants, some of which are only found in this area.
Wonderful view from Swiss Royal DAHAB
Blue Hole
This area in Dahab is considered one of the most popular diving places in the world, due to its charming coral reefs and different types of fish. It has a large number of tourists every day.
Relaxing time in Acacia Dahab Hotel
Nabq Nature Reserve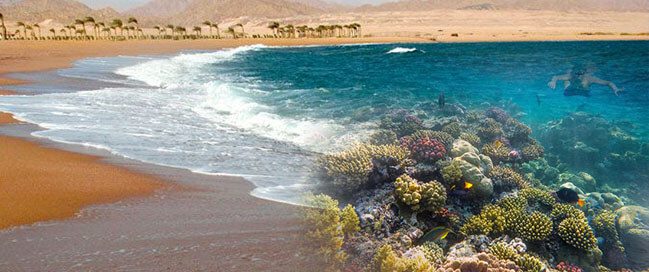 Nabq Nature Reserve is located on the Gulf of Aqaba between Dahab and Sharm El Sheikh. It has an area of ​​600 square kilometers. It is an attractive area for tourists, where it combines the desert, mountain, and coastal environment, with wild animals and birds, the sea, coral reefs, colorful fish, and charming golden dunes.
A nice accommodation in Laguna House
Wadi Gnai
Many tourists come to this valley to enjoy a range of activities such as swimming, diving, and motorbiking, as well as mountain climbing and camping.
The Laguna 
The most important thing that distinguishes this area is its sandy beach, unlike most of Dahab's beaches. This makes it an attraction for divers, as you find stunning underwater views.
Best time to travel to Dahab
Dahab is a world-class destination at any time of the year, where you can visit any part of the city during any month of the year, and the only specific places preferred to avoid are the desert during the summer, and the mountains during the winter, of course, due to the high heat from March to June, and their decline between the highlands during September to February.
Dahab during the Coronavirus outbreak
The commitment to social distance in Dahab is the reason why people choose to stay in Dahab during the Coronavirus pandemic. People come from all over Egypt to Dahab because it is safe, as the numbers of people infected with the virus in Dahab are very few.
Read Also