After a day full of work pressure and stress, you need something to relieve this tension to enjoy your life. Thus, we offer you some of the places to go out in Cairo, whether alone or with your family, that can help you forget about your worries for the day. Besides the popular tourist attractions in Cairo, food, or sitting in cafes, where to go in Cairo? Are there other places to go out in Cairo? Read this article.
When it comes to the best places to go out in Cairo, the options are endless. As the city that never sleeps is considered one of the most popular cities in the world with many attractions and places to visit. Wherever you go in Cairo, you will find someone who welcomes you. These are some of the best places to visit in Cairo, pick your favorite
One of the best Hotels in Cairo
Enjoy watching Pyramids from The Muse Hotel
Where to go in Cairo with kids
If you want to spend quality time with your children, do not miss the opportunity and plan something fun for you and your family. These are the top spots to go out with kids in Cairo.
National Circus – Nile Street
The National Circus is regarded as one of the best places in Cairo, as it offers many shows and entertaining activities for visitors. It also contains many shows such as the magician's show and the lion's taming show.
Enjoy your stay at New Pyramid Queen Hotel in front of the pyramids
Family Park – Suez Road, near the entrance to Al Rehab 2
Family Park is one of the most significant places to enjoy your time, green spaces, and landscapes, as well as restaurants and cafes that enable your children to have enjoyment and spend a day full of fun
Book Now in Pyramids inn
Africa Park – Alexandria Desert Rd
This place is like a nature reserve, with spacious places, green spaces, and pets. This place is kid-friendly as well as reasonably priced.
Spend an amazing Vacation in Abdeen Palace Hostle 
KidZania – Fifth Settlement
If you are looking for a kid-friendly place, KidZania is the perfect place for it. This place is an entertainment center, and your child can spend a fun and safe day in it. KidZania is located inside Cairo Festival Mall in the Fifth Settlement.
Book Now your next holiday in Jasmine Pyramids Hotel 
Gero Land – Obour City
If you live in El-Obour City, Gero land is one of the recreational sites that is known for its spacious areas and include a wide range of games and safe swimming pools for children. Gero Land is open from 10 A.M until 10 P.M.

Check Now the best Hotel in Down Town Tourist Cairo Egypt Hotel
Magic Planet
This is the perfect place to spend a fun day with your kids, as there are a lot of fun games that are suitable for all ages. Magic Planet is located in several shopping malls, including Cairo Festival City Mall and City Center Maadi.
Ski Egypt – Wahat Road, 6th October
There is Ski Egypt in the Mall of Egypt, and although it is a shopping mall, it has the best entertainment place, which is skiing with your family, children, and friends.
Book Now in Victory Of Downtown Hotel
Aqua Park – Cairo-Ismailia Desert Road
Aqua Park ranks among the best water parks in Cairo. It is located in a convenient location for the residents of Cairo, as it is located 6 km after the transit market on the Cairo-Ismailia Road. Aqua Park is a wonderful water park that will give your child a special time. If you want to spend a fun day, go to the wonderful Aqua Park.
Best places to go out in Cairo at night
There are many places in Cairo that you can go to at night, and here are the 9 best things to do in Cairo at night:
The Opera – Downtown
You can go to the opera at night, enjoy different kinds of arts, attend parties and concerts.
Berlin Hotel in Cairo 
Cairo Tower – Zamalek
The Cairo Tower is located close to the Egyptian Opera, and through the tower, you can enjoy an enchanting view of the whole of Cairo. You can also do a variety of activities and enjoy food and drinks in the various restaurants inside the Cairo Tower.
El Sawy Culturewheel – Zamalek
El-Sawy Culturewheel is one of the most popular places to visit in Cairo, where you can attend a variety of concerts, exhibitions, in addition to theatrical performances, and cultural seminars that are presented in the halls of El-Sawy Culture Wheel.
Al-Moez Street – Al-Ghouriya
Al-Moez Street is considered one of the best and most popular places to go out in Cairo, especially at night. It includes many historical and religious landmarks, the most prominent of which are the Al-Hakim Mosque, Al-Hussein Mosque, Al-Aqmar Mosque, Bab Al-Futuh, Al-Suhaimi House, the Dome of Karkamas, and other wonderful monuments. You can also buy souvenirs from there.
Jabal al Muqattam – Mokattam
You can spend the most beautiful moments of your life with your partner or friends in Mokattam, where you can see Cairo differently and have fresh air.
Al-Azhar Park – Salah Salem Road
The park offers a clean and pleasant environment and beautiful scenery, where you can spend a beautiful night with your friends and take great pictures for unforgettable memories.
Nile boats
Imagine yourself on a boat in the middle of the Nile, listening to your favorite music. All these fantasies can become a reality when you take a Nile cruise on a boat in the Nile River, especially at night.
Maadi Island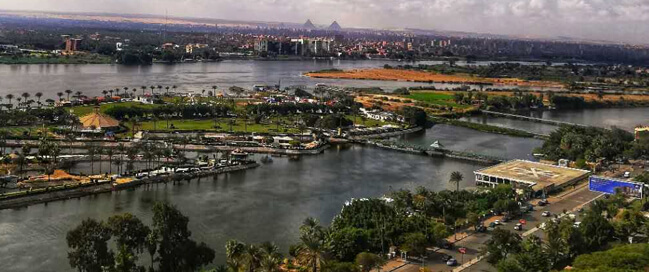 It is considered one of the best places in Cairo, as it is small islands with artificial lakes, you can ride a boat or eat in one of the restaurants on the lakes, in addition to parks and places for photography, walking, and cycling.
Zed Park – Sheikh Zayed
Zed Park is one of the newest places if you ask yourself where to go in Cairo. The amusement park is located in Sheikh Zayed City and includes a lot of entertainment activities, restaurants, an ice rink, and venues for parties. In addition to green spaces and walking paths.
Where to go in Cairo 2022 – Restaurants and Cafes
There are many restaurants in Cairo, including Koshary Abu Tarek Restaurant, El Dawar Restaurant, Bataw Restaurant, Sobhi Kaber Restaurant, Abou El Sid Restaurant, Kaddoura Fish, Sea Gel, Abu Shakra, Farhat.
It is also filled with many different cafes, including Cafe Blue Blue, Cilantro, Coffee Khan, Nile Lounge, Heaven47n Al Fishawy Cafe, Coffee Corner, Sophie, Antique Khana.
Where to go in Cairo in winter
Many people consider winter to be the season of inactivity, and therefore it is an obstacle for them to go outside because of the cold. These are the indoor places you can go to in the winter.
You can go to the cinema and watch your favorite movies. These are the most famous cinemas in Cairo; Cairo Festival City Cinema, Point 90 Cinema, Zawya Cinema, City Stars Cinema, Al-Massa Cinema, Rehab Cinema, Madinaty Cinema.
You can also watch various theatrical performances offered by state theaters at reasonable prices, including the large floating theater, Al Salam Theater, the National Theater, and the Balloon Theater.
Read More