Trabzon city is charming in nature, located on the Black Sea coast and enjoys a quiet and magnificent atmosphere. You can experience the best Trabzon food in many restaurants, as they all offer a special taste and quality of food.
Trabzon is also famous for its exquisite restaurants and its unique seafront sessions, and is considered one of the best rural towns in Turkey, which attracts many tourists.
The restaurants in Trabzon range from Turkish to Arabic, but all have the quality of their delicacies and dishes. In addition to its spectacular and wonderful views.
Here is a list of the best restaurants in Trabzon, offering delicious Trabzon food and cuisine.
Galanima Restaurant
Galanima is one of the best restaurants in Trabzon, with its charming location directly on the sea, providing an enjoyable and wonderful gathering with friends and family for a delicious Trabzon food and enjoying the beautiful sunset.
The restaurant is famous for its Turkish cuisine of all kinds, and offers a variety of dishes. It serves various seafood, meat, cold and hot appetizers, as well as salads and drinks.
Cephanelik Restaurant
The Cephanelik restaurant is a Turkish / Western café and restaurant at the same time. The restaurant has a wonderful garden that offers its guests a meal in the midst of nature and a sense of relaxation and comfort.
In addition to the famous Turkish dishes, the Cephanelik restaurant features some excellent Italian dishes such as pasta, pizza and some sandwiches and dessert.
It also has various dishes of meat, fish of various kinds, many appetizers, salads and also drinks.
Kalender Trabzon Restaurant
Despite the small size of this restaurant, it is very popular in Trabzon and attracts many tourists and citizens alike.
Its convenient location near the city's museums and attractions makes it a place to relax and enjoy a delicious meal with friends or family.
The restaurant serves some traditional and simple dishes of Trabzon food and cuisines, but is served in an appetizing and delicious way, and offers coffee and some drinks as well.
Cemil Usta Trabzon Restaurant
The Cemil Usta Restaurant is an old stone building on the north side of Atatürk Alani Street.
It consists of two levels. If you choose to sit on the top floor, your table will overlook the large square in front of the restaurant, but if you choose to sit in the lower floor, your table will overlook the street.
The restaurant serves a mix of seafood and local dishes, and the most popular dish, the akçaabat köfte, which is a Turkish-style meatball.
Cemil Usta Restaurant is famous for providing sweet hazelnuts free of charge to its customers, while waiting in case of overcrowding at the restaurant, making its customers happy waiting time.
Fevzi Hoca Trabzon Restaurant
Vivzi Hokka is one of the best seafood restaurants not only in Trabzon, but in whole Turkey.
The restaurant is decorated with pictures of famous people who have already eaten at the restaurant, which shows its popularity.
It ensures that you will eat fresh fish only, as it provides only seasonal fish. It also has no menu, where you can choose the type of fish you want to eat and it will be ready for you.
The restaurant also offers people who do not want to eat fish, the famous akçaabat köfte dish made from meatballs.
Ahmed Kebab Usta Salonu Restaurant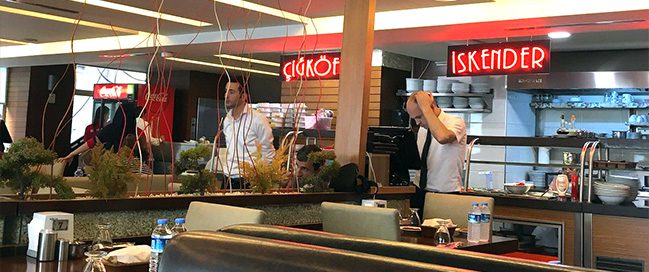 This restaurant is designed distinctive on the lively and crowded pedestrian walkway of Sucak Ozone.
The restaurant offers all types of kebabs with various meals and cooking methods. Some rare dishes are also available in other restaurants such as talaş kebab, lamb meat wrapped in delicious pastries.
It also serves an orman kebab, which is also lambed but cooked with vegetables. In addition to serving many local dishes such as cabbage and fondue.
Best Trabzon food in Tarihi Kalkanoğlu Pilavcısı Restaurant
Tarihi's restaurant is different from other restaurants in Trabzon, it is a family heritage that has been run by a Turkish family for many years.
It is the family that cooks for their customers the best Trabzon food, and therefore the restaurant serves the same dishes since 1856, and as time goes on it is presented in more creative and tasteful ways.
The restaurant features a charming dark wood design that adds beauty and warmth to it.
If you want to know the taste of authentic Turkish meals, try this restaurant, which specializes in offering all the amazing Turkish specialties.
The restaurant serves the best and most delicious Turkish dishes, the most famous of which is the rice cooked with butter and the slowly cooked mutton, and the kuru fasülye dish, white beans in tomato sauce. In addition to the Arian Frucht is a salty yogurt drink.
As the restaurant serves home-made dishes, the sweets are made at home, so you feel like you're eating at home. In addition to the delicious and non-traditional juices and drinks that are characteristic of the restaurant such as dried apricot juice.
Hussein Restaurant
Hussein Restaurant is one of the best restaurants in Trabzon, where you can eat famous Trabzon food. It has a magnificent view over Lake Serra Gul.
The restaurant serves a wide range of popular and delicious dishes and dishes, as well as hot and cold appetizers and drinks.
Morgan Restaurant
The Morgan Restaurant features its tranquil atmosphere and views of the sea directly. It is therefore considered one of the best restaurants in Trabzon. The restaurant is famous for its delicious dishes and meals for breakfast, lunch and dinner.
For more experiences in Turkey you can see: