You may not think of Georgia as a tourist attraction country, but there is a side of this beautiful country that has its unique story to tell us, where green mountains extend into valleys and fertile plains, impressive ancient churches, and breathtaking nature. Tourist attractions in Georgia vary, making places to visit in Georgia the ideal trip for those who dream of relaxing and enjoying charming tourist places and ancient historical monuments. It is also suitable for those who have a medium and low budget.
What is your opinion to make your next destination to the most beautiful country in the world "Georgia"? If you are planning to visit Georgia soon, find out the places to visit in Georgia and pack your bags.
About Georgia
The Language
Georgia's local language is Georgian, but the majority of its residents speak Russian, and some of its residents, especially in tourist areas, speak English fluently. Tbilisi is the country's capital and is considered the most popular tourist destination in Georgia, followed by Batumi and Borjomi. The Georgian currency is the Lari and each dollar equals 3.15 lari.
Transportation
All transportation in Georgia operates from 6 A.M until midnight. Transportations in Georgia are cheap. Within cities, you can use public transportation such as the metro and bus, and you can take a taxi.
Bus
Big buses, especially in Tbilisi are considered one of the most important transportations in Georgia. There are more than 68 main routes, with more than 800 buses and around 1200 stations, which have electronic boards showing you the bus times, numbers, and expected time of arrival.
The Metro
It is considered one of the fastest and most accurate transportation in Georgia. A Metromani card is required for entering the metro stations and the main feature is the audible directions in Georgian and English that show you the itinerary and the next station.
The train
It is a favorite option for all. There are many options to choose from, there are night trains, express trains, and first-class trains.
Cable Car
It is one of the most enjoyable transportation in Georgia. There are not cable cars only in the capital, Tbilisi, but cable cars are in most tourist areas in Georgia, such as Batumi, Borjomi, and others.
Taxis
For those who want to move freely between different cities of Georgia, this service is preferable. However, if you do not find a meter in the car, you will have to negotiate the price with the driver.
Taxi company services
There are taxis with electronic car ordering services, which you can download their application on your phone. This service is provided by many private companies in Georgia, the most famous of which are Yandex and Bolt. It is a service similar to Uber and Careem services in our Arab countries.
AiCar driverless smart taxi
It is a service launched by the AiCar company. All you have to do is download the application from the store, the application will guide you to the nearest electronic car, where the car operates automatically with the application's fingerprint, and after your ride, you can park it in any of the public parking and streets in Tbilisi and the application will deduct the cost from your bank card.
What are the Tourism Seasons in Georgia?
Georgia's weather varies from subtropical to cold due to its geographical location between the Greater Caucasus Mountains and the Black Sea. December, January, and February are the coldest months in Georgia while July and August are the warmest. The summer months are the best time to visit Georgia.
Traditional Georgian Food
Georgian dishes are very popular with visitors. Georgia provides us with the most delicious dishes to give a special character while traveling to Georgia, the most famous of which are:
Khinkali
It is one of the most famous dishes in Georgia. It is a pastry divided into small pieces and stuffed with meat or vegetables and then placed in boiling water until it is cooked and ready to be served.
Khachapuri
It is the most delicious dish in Georgia. It is a sort of baked goods made in the form of a boat with a special type of cheese, an egg, and melted butter.
Tourist places to visit in Georgia
Georgia is located in Eastern Europe, Western Asia, on the eastern coast of the Black Sea. This beautiful country combines culture, history, and contemporary architecture. It is famous for its picturesque nature with a variety of leisure activities, making it an ideal destination to visit for everyone.
This super-beautiful European country, which has been able to top the world's attractive tourist attractions despite its small size. It has many attractive monuments and tourist places to discover when visiting Georgia.
Tbilisi… A Great Experience
Tbilisi is the capital of Georgia country, and the diversity of architecture reflects its long history, as its old architecture is more than impressive. Add to that the modernized facilities and attractions in the city, you will know why it is one of the most popular tourist destinations around the globe now. If you want to travel to Georgia, you should start by visiting the capital, Tbilisi.
Accommodation in this city varies between luxury hotels and backpacker hostels and restaurants and cafes available of all price ranges. In Georgia, hotels and restaurants are more affordable than other tourist countries as Georgia is new in the tourism sector.
You must try the cable cars in Tbilisi for a breathtaking ride over the city and the river. It is an experience that you will never forget. You should also try the revamped ancient Funicular to Mtatsminda Park above. It is an amazing trip.
Mtskheta…Georgia's spiritual capital
Georgia's old capital, Mtskheta is one of the oldest cities in the country. It is located only 30 minutes from Tbilisi so you can take a tour while staying in the capital. The tour takes a day or half a day, but it is worth a visit. The ancient churches in the city are among the most beautiful in Europe.
Tours are worth a visit for one day or half a day. The old churches in town are among Europe's most beautiful.
Check out the cave city of Vardzia
This cave-palace-monastery built in the Caucasus looks like something out of fairy tales and fantasy novels. It is something that you have to see to believe.
At some point in history, this huge cave city comprised 6000 apartments spreading through 13 levels, as well as a throne room and a large church with an external bell tower. Some of the caves were destroyed by a massive earthquake though.
The place still houses a monastery within a closed part, but some parts are open for visitors. It is definitely worth a visit.
Visit the beautiful Stepantsminda
Formerly known as Kazbegi, this small town offers some of the most beautiful scenery ever. When in the area make sure to check its famous waterfalls.
The area is famous for providing exhilarating activities within a stunning setting. Mountain activities in the area include paragliding and river activities include Kayaking. It is also famous for trekking and walking as the mountain paths are just beautiful.
Svaneti…Georgia's most picturesque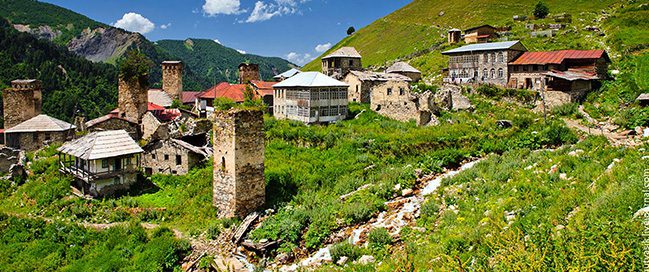 In addition to being a UNESCO World Heritage Site, Svaneti is one of the most beautiful locations in Georgia with its mountain watchtowers and spectacular nature. It is also home to the highest peaks of the Caucasus mountain. The small villages in the region are surrounded by green plains and mountains with snowy peaks, and this gives the mountainous nature of the region an unparalleled beauty.
This natural resort provides its visitors with a lot of things such as hiking, climbing, and skiing trails.
Batumi… Las Vegas of Georgia
Batumi is the most famous places to visit in Georgia and it has many tourist and recreational facilities on the coast of the Black Sea. Batumi has many hotels and restaurants due to the huge number of tourists in the city.
If you are traveling to Batumi during the summer, there is no need to remind you to visit Batumi Boulevard, all tourists find their way to this famous park along the beach. The park includes restaurants, cafes, and fountains amidst green gardens.
Near the northeast tip of Batumi Boulevard, you will find the huge Ferris wheel, which is one of the most beautiful entertainment facilities in Batumi due to the scenic view it overlooks.
Tusheti … For adventure and challenge enthusiasts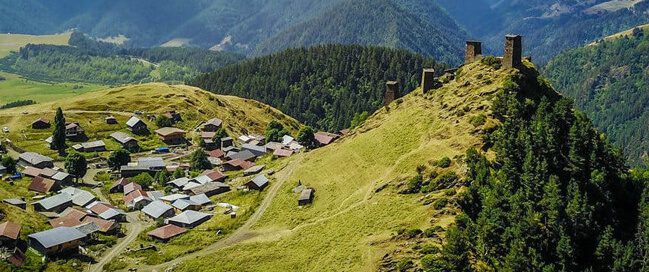 If you love adventure, challenges, and 4×4 cars, then you should visit the Tusheti region. Tusheti is located in the northeastern corner of Georgia between the mountain peaks and valleys of the Caucasus, which makes it a suitable destination for hiking in Georgia. You can also camp there. At 2000 meters above sea level, there are several mountain villages with great views in the mountains. 
There is only one way to Tusheti by 4×4 cars. The road is open from June to October, and it is one of the most beautiful routes to drive.
Kazbegi… The ideal place for hiking
The Kazbegi region is located in the far north of Georgia on the Russian border and it has the highest peak in the Caucasus mountain. It can be visited all year round, especially in summer, as Georgia weather is cold and its waters are wonderful, and therefore it is the favorite spot of Georgians. Kazbegi should be listed on the places to visit in Georgia. There are many tourist places to visit and various activities to do, the most important of which is hiking.
Borjomi… Enjoy the natural parks
Borjomi is located in south Georgia, famous for its beautiful landscapes, warm springs, and lush green forests. It is also known for mineral water production, and is considered a health resort because of the availability of mineral water, and is designed for tourists to treat their health problems.
The city is considered one of the most important tourist destinations in Georgia, where many visitors enjoy its natural parks and archaeological and cultural sites. It is also an ideal city for families, as it includes a public park where you can find cable cars, games for children, a forest that you can walk in, as well as a pool of sulfur water.
** Finally, if you're looking for a complete guide to Georgia, then you should look at Travel packages to Georgia.
For more about places to visit in Georgia see also: