A city that combines Western European and Eastern Islamic character, a city that blends modern monuments with historical monuments to impress tourists with its modernity and ancient historical spirit, Baku, the capital of Azerbaijan, its financial and commercial center and its largest city; Located on the Caspian sea at the southern tip of Absheron Peninsula, it enjoys a mild climate throughout the year. Baku, the capital of Azerbaijan, is one of the most beautiful coastal cities, and Baku's charming beaches offer many activities and water sports. It also has the best and largest shopping malls in the country such as Nizami Street and Fountain Square, the Baku hotels are home to many high-end international hotels located within walking distance of famous landmarks. The hotel revenues amounted to 7 million euros in 2009, as it is considered one of the most important tourist places recently, where many tourists visit annually. If you're looking for hotels to stay in Baku, read this article and compare the top 10 hotels in charming Baku.
1- Four Seasons Hotel Baku
Four Seasons Hotel Baku is one of the best and luxury hotels in Baku, in Azerbaijan with a unique location between the picturesque waterfront and the ancient city. The hotel is close to several shopping malls and is a 2-minute drive from the Park Bolivar center and a 5-minute walk from Azerbaijan Art Museum.
It's 5 stars hotel  in Baku which has a steam room, sauna, Turkish bath, gym, and spa, as well as a swimming pool, car parking is available for free. Next to the hotel, you will find transportation, shops, and many restaurants.
2- Baku Boulevard Hotel
Boulevard Hotel is one of the best places to stay in Baku near the Caspian Sea. The Corniche is a 5-minute walk away from the hotel and a 5-minute drive from Heydar Aliyev Museum. The hotel is near Port Baku Mall and Baku Train Station is 1 km from the hotel. The zoo is an 11-minute drive away. It thus provides perfect accessibility to all major commercial and cultural sites of the city.
The hotel has a swimming pool, sauna, spa, gym, massage, and free private parking.
3- Shah Palace Hotel Baku
 Shah Palace Hotel is one of the best Baku hotels in the center of the old city where you can find everything around you. The Hotel is a 5-minute walk from Fountain Square and Metro Station Icheri Sheher. It is also close to the Boulevard and many attractions places in the city center, and Heydar Aliyev International Airport is 50 km away.
The hotel has a Turkish bath, sauna, spa, massage, and a gym. Car Parking is available at an additional fee.
4- Fairmont Baku Hotel
Enjoy a luxurious stay at the Fairmont Hotel, which offers great views of the city and the Caspian Sea, and is close to the old town. The hotel is a 15-minute walk away from Shirvanshahs Palace, and Heydar Aliyev International Airport is about 30 km from the hotel.
The hotel offers spacious and clean rooms, a steam bath, jacuzzi, sauna, steam room, spa and massage services as well as a gym, indoor and outdoor swimming pool and suitable for individual and family trips.
5- Caspian Hotel Baku
If you are looking for a luxury accommodation, you are in the right place, Caspian Hotel has elegant air-conditioned rooms with colorful design and classic décor with romantic red furnishings and soundproofed windows outside the city, as well as a private bathroom and a minibar.
The famous hotel is 2 km from Fountains Square. Officers Park is 1.3 km from the hotel. The distance between the Maiden Tower and the hotel is 2.5 km. Heydar Aliyev International Airport is 20.9 km away from the hotel.
6- Winter Park Hotel Baku
You are now about to discover the beauty of Baku when you stay at Winter Park Hotel, one of the best Baku hotels, offering music and entertainment performances for its guests, and all of the hotel's rooms have a magnificent view of the sea and the city's magnificent sights.
The venue consists of 15 stories with 170 luxurious, air-conditioned and clean rooms, free car parking, massage services, sauna, health and beauty care, as well as front desk services, housekeeping, and laundry.
Ballet Theater and opera can be easily reached on foot, the hotel is 25km away from Heydar Aliyev International Airport.
7- Holiday Inn Baku Hotel
If you are looking for relaxation, your stay at Holiday Inn Baku is perfect. It offers massage sessions within the spa which equipped with a sauna and steam bath, it also features an indoor pool, gym, and many different leisure activities. The hotel's restaurant serves breakfast, lunch, and dinner, or you can stay in your room and take advantage of 24-hour room service feature. The hotel is close to places of interest and shopping area, just a 1-minute walk from Port Baku Mall and a 16-minute walk from Boulevard Park Mall. Heydar Aliyev Cultural Center is 10 minutes away, and the Old Town and Shrvanshah Palace are within 8 minutes' drive from the hotel.
8- Hilton Baku Hotel
This family-friendly hotel is situated in the heart of Baku, it is close to everything you need; it is also close to Azerbaijan State Academic Opera and Ballet Theater, Heydar Aliyev Palace, Fountain Square, and Boulevard. It is a 2-minute walk from Park Boulevard Mall, a 17-minute walk from Nizami Street, a 25-minute walk from Venice and a 24-minute drive from the Old Town.
It feels luxurious as it features an antique and luxurious design. The hotel has a nightclub, a fitness center, and aerobics classes.
As for dining, you can enjoy a meal at one of the hotel's restaurants, which includes two restaurants and a café. Or you can take advantage of 24-hour room service. Buffet breakfast is served daily for an additional fee. What distinguishes Hilton from other Baku hotels is that it offers families who come with their children a high chair for children, a special menu and kids club.
9- JW Marriott Absheron Baku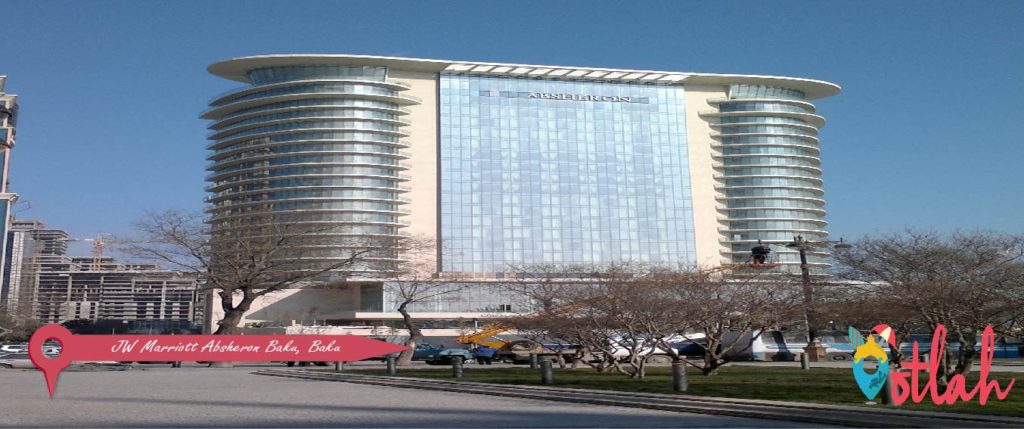 This modern hotel is ideally located just 7 km from the city center, this hotel is surrounded by all the famous places in Baku, such as museums, towers, palaces, and the underground station. It is 20 km from Heydar Aliyev Airport.
The 5-star JW Marriott Absheron Baku hotel includes a 24-hour restaurant serving Asian cuisine, where you'll feel at home for its excellent service and the kindness of its staff.
The hotel offers exceptional amenities and facilities for business and tourists with fully equipped rooms overlooking the Caspian Sea. If you are looking for relaxation, this is the perfect place with a sunny area, an indoor swimming pool,  gym, fitness classes, and gymnastics classes. It also has a nightclub.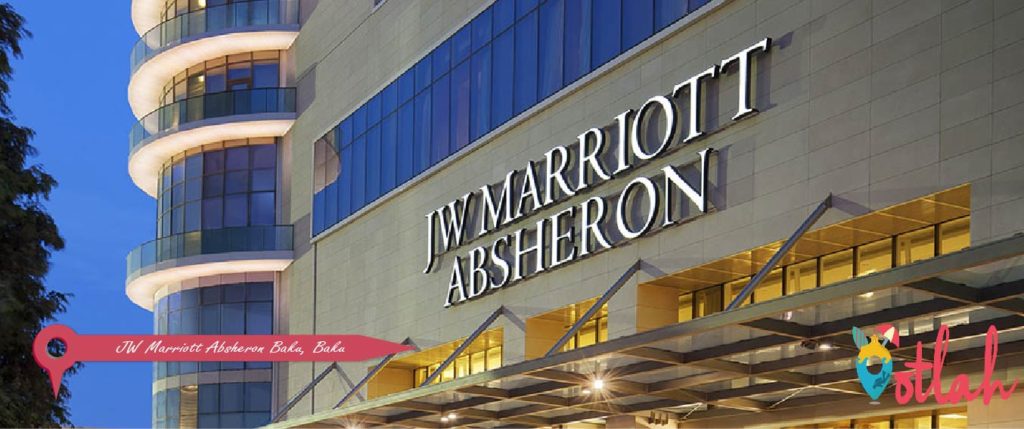 10- Staybridge Suites Baku
Staybridge Suites Baku offers luxurious accommodation for its guests and offers additional amenities and services such as 24-hour housekeeping. The venue consists of 123 elegant rooms spread over 15 floors.
There is a buffet breakfast in the morning. And there is a lounge restaurant serving hot food and a bar with special meals for children. It also features a children's club and a children's play area.
The hotel is close to Mall 28 and Nizami Street is a 22-minute walk away from the hotel. Mini- Venice is a 9-minute drive away. It is also close to shopping areas, theaters, and opera.
As for transportation to the airport, don't worry, the hotel provides a free airport transfer service, it is 20 minutes away from the airport by car.
* In the end, Azerbaijan and Baku are a new tourist, making it an ideal place to visit, have fun with your family and enjoy the stunning views. The best time to visit is from April to June when Azerbaijan's lowlands become green and full of flowers and colors.
To learn more about tourism in Azerbaijan see also:
 To learn more about hotels around the world see also: